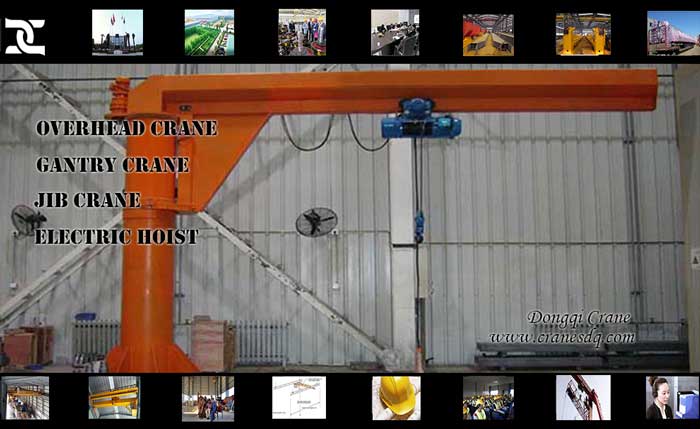 Pillar Jib Crane Introduction
Pillar jib crane also called pillar mounted jib crane is a type of freestanding small and medium material handling equipment with the base plate installed on the floor without any support from the building. The lifting capacity of pillar jib crane is 0.5 to 10 tons and the working class is A3. The main specifications of pillar jib crane are presented as follow:vnsHenan Dongqi Machinery Co., Ltd
| | |
| --- | --- |
| Product Type | BZ |
| Lifting Capacity | 0.5~10t |
| Lifting Height | 3~12m |
| Working Class | A3 |
| Ambient Temperature | -25~40℃ |
Components of Pillar Jib Crane
Pillar jib crane is mainly consisted of up-pillar, down pillar, main beam bar, electric hoist, rotating mechanism and electric system, etc.vnsHenan Dongqi Machinery Co., Ltd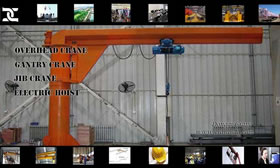 vnsHenan Dongqi Machinery Co., Ltd
Pillar Jib Crane drawingvnsHenan Dongqi Machinery Co., Ltd
Application of Pillar Jib Crane
Pillar jib crane is widely used in workshop, warehouse, dock, yard, storage and other places where the pillar can be installed. Pillar jib crane shows superiority when used in short range or serried applications.vnsHenan Dongqi Machinery Co., Ltd
However, they are forbidden to be used in dangerous applications where is inflammable, explosive, and corrosive, etc. What's more, pillar jib crane cannot be used to handling molten metal, toxic and inflammable and explosive materials, etc.vnsHenan Dongqi Machinery Co., Ltd
Advantages of Pillar Jib Crane
Pillar jib crane has the advantages of unique structure, high safety, reliability, high working efficiency, energy saving and time saving, flexible operation, etc.vnsHenan Dongqi Machinery Co., Ltd
Compact Design
The compact structure design makes pillar jib crane light in dead weight and excellent in work performance, improves space utilization rate and narrows hook operation distance to the maximum intently. The best material handling solution for your applications.vnsHenan Dongqi Machinery Co., Ltd
Smooth, Fast Loading, Excellent Performance
Stepless frequency conversion control system is installed to the crane and trolley, which make pillar jib crane brake stably, locate accurately, perform reliably, and travel steadily, position quickly, and solve the problem of swing of loads.vnsHenan Dongqi Machinery Co., Ltd
Safer, Reliable, Using Free Maintenance Design
Best technology is adopted which makes the frequent operations safe and efficient.
Perfect braking systems can largely improves pillar jib crane safety and reliability, equipped with dustproof design, the working life can reach up to 1 million times.
Hardened and polished tooth surface ensures the operation of crane smoothly without troubles.
Features of Pillar Jib Crane
Three phase AC of power supply, rated frequency 50HZ, and rated voltage 380V.
Altitude of crane installation site is less than 2000m.
Pipe with ample strength is made into post.
Crane jib swivels on antifriction bearings.
Slewing motion is available in both manual as well as motorized variety.
Jib construction can be under braced or over braced.
Wide base plate at the bottom of jib makes the loads pressures distributed evenly on foundation.
Manual chain hoist, geared trolley, electrical chain hoist, motorized trolley and other lifting units are available.
Radio remote control are available for remote crane operation.
Pillar jib crane or pillar mounted jib crane is a free standing jib crane. The pillar crane is for 0.5 to 10 ton material handling with longer spans, greater rotations than wall mounted jib crane. Contact us for more informaiton on pillar jib crane now!vnsHenan Dongqi Machinery Co., Ltd