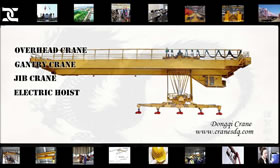 Electromagnetic Crane
Electromagnetic crane / magnetic crane is a kind of material handling equipment, equipped with detachable electromagnetic chuck and corresponding operating system to handle and lift metal objects. The lifting capacity of the electromagnetic overhead crane included the weight of electromagnetic is 5 to 32 ton. The working class of electromagnetic crane is A5 and A6. The magnetic retentive time is 10 to 30 minutes.ibxHenan Dongqi Machinery Co., Ltd
Specific parameters of electromagnetic overhead crane is shown in the following table:ibxHenan Dongqi Machinery Co., Ltd
| | |
| --- | --- |
| Product Type | QC |
| Electromagnetic Crane Lifting Capacity | 5~32t |
| Electromagnetic Crane Span Length | 10.5~31.5m |
| Electromagnetic Crane Working Class | A5, A6 |
| Electromagnetic Crane Ambient Temperature | -20~40℃ |
Components of Electromagnetic crane
Electromagnetic crane or magnetic crane is mainly consisted of crane bridge, trolley, crane traveling mechanism, driver's cabin, electrical system, electromagnetic system, including electromagnetic chuck, rectification control equipment, cable connectors and others.ibxHenan Dongqi Machinery Co., Ltd

ibxHenan Dongqi Machinery Co., Ltd
Electromagnetic crane drawingibxHenan Dongqi Machinery Co., Ltd
Application of electromagnetic crane
The electromagnetic crane can be used for handling and transporting indoor and outdoor black metal products and materials, such as ingots, structural steel, iron, scrap iron, steel and others. ibxHenan Dongqi Machinery Co., Ltd
Advantages of electromagnetic craneibxHenan Dongqi Machinery Co., Ltd
New style, compact structure, delicate appearance
Good usability and durable quality
High loading capacity and working class
High safety and reliability
Light dead weight, lower wheel load and low noise
Low power consumption and few faults
Wide application and competitive price
Features of electromagnetic crane
On material. All compression structural part of crane's components is made of high quality materials confirming with the regulations and standards, whose inspection report can be provided when required.
On welding. The welding of steel structures will be strictly checked and inspected by specialist and the inspection reports also can be provided on requirement.
On magnetic chuck. The magnetic chuck has huge magnetic force which can be used to lift and transport wide range of metal products and can handle large volume of metals at a time.
On motor. Top brand motors are installed with good performance and with Class F insulation and IP54 protective class.
On electric system. PLC control to all the mechanism and any speed requirement can be achieved.
On control system. Cabin with joystick panel, wireless control and pendant control can be your choices.
On painting. 3 layers of painting is painted to protect the steel from rusting.
On safety. Various protection measures are taken to ensure the safety of crane and operation. Overload limit, height limit, rail end stop limit for traveling are used to protect mechanical system and short circuit protection, lose phase protection, low-voltage protection, power failure protection, over current protection are used to protect electric system.
Electromagnetic crane for metal handling with capacity of 5-32 ton. The magnetic crane of Dongqi improves your efficiency and safety for sale. Electromagnetic overhead crane is at your services. Contact us for the electromagnetic crane and the magnetic crane now!ibxHenan Dongqi Machinery Co., Ltd