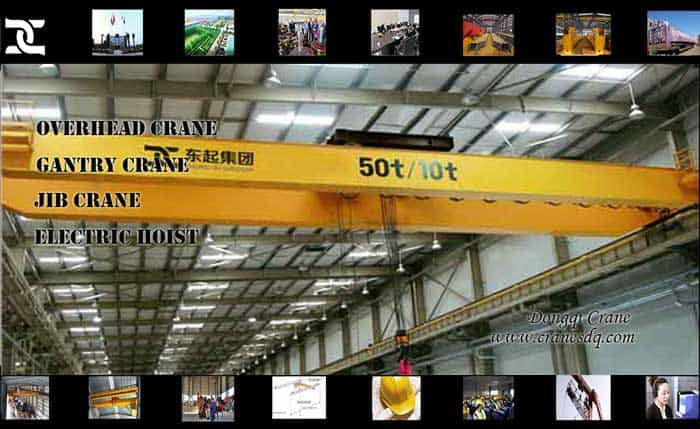 Overhead crane with hook introduction
As one of the most frequently used material handling equipment, overhead crane with hook is an overhead crane with the hook as the lifting tool. The lifting capacity of the hook overhead crane is 5 to 550 tons, and the working class is A4 to A7. The specifications of the hook overhead crane is as follow:BMHHenan Dongqi Machinery Co., Ltd
| | |
| --- | --- |
| Product Type | QD |
| Hook Overhead Crane Lifting Capacity | 5~550t |
| Hook Overhead CraneSpan Length | 10.5~35.5m |
| Hook Overhead Crane Working Class | A4~A7 |
| Hook Overhead Crane Ambient Temperature | -20~40℃ |
Components of overhead crane with hook
The hook overhead crane is consisted of crane bridge, crane traveling mechanism, trolley, electrical equipment, crane hook, etc.BMHHenan Dongqi Machinery Co., Ltd
Application of overhead crane with hook
The hook overhead crane is widely used to load and transport normal weight in the fixed crossing space and in various special purpose hoists in special operations. However, it is not allowed to be used in combustible, explosive or corrosives environment.BMHHenan Dongqi Machinery Co., Ltd
Advantages of overhead cranes with hook
Compact structure, new style, nice appearance
Good usability and long working life
High capacity and high working class
Flexible operation and wide application
High safety and reliability
Competitive quality and price
Crane hook
Crane hook is one kind of material handling devices, a tool used to lift and move loads. The crane hooks can be classified into single hook, double hooks, C shape hooks, and laminated plate hook, etc.BMHHenan Dongqi Machinery Co., Ltd
The single hook can be manufactured easily and are widely applied to the cranes to lift the loads no more than 75 tons.BMHHenan Dongqi Machinery Co., Ltd
The double hooks is usually applied to large capacity cranes for the good loading conditions.BMHHenan Dongqi Machinery Co., Ltd
The laminated plate hook is a load hook, assembled of multi-sheets or individual segments, connected by rivets. The laminated plate hook is mainly used for the transportation of molten liquid matters in casting ladles, and other large loads.BMHHenan Dongqi Machinery Co., Ltd
Does on slinging a load onto a crane hook
Make sure the load weight.
Choose the right sling for the loading work according to the loading requirements.
Inspect the lifting equipment before and after lifting work and tag defective slings and dispose of damaged ones.
Make clear and standard signals to the crane operator by the only one slinger who is in charge of the lift.
Warm all people and make them out of the load area before lifting.
Protect your hands and fingers from pinching between the sling and loads.
Before lifting, make sure the load is high enough to clear all objects before signaling for the crane to move.
Step away and walk ahead of the moving load and warn people to keep clear.
Use guide ropes to prevent rotation or other uncontrolled motion.
Set down loads on blocking.
Hang slings on racks or store according to manufacturer's direction when not in use.
Don'ts when slinging a load
Do not exceed the capacities of slings, fixtures and cranes.
Do not twist or tie knots in slings or use bolts, nails or pieces of wire to shorten slings.
Do not splice together broken slings.
Do not ride on hooks or loads.
Do not allow workers to walk or work under a load.
Do not attempt to pull or push loads to a spot that is not under the hoist.
Do not drag slings. Avoid pulling slings out from under loads by crane.
Do not leave unused slings, accessories, or blocking lying on the floor.
Do not carry a load by inserting the point of the hook into a link of the chain.
Do not hammer a sling into place.
Do not leave loose materials on a load.
Do not use slings that are stretched, broken, or defective.
Do not leave suspended loads unattended.
Do not expose slings to temperatures beyond the range recommended by the manufacturer."
Overhead crane with hook for 5 to 550 T material handling for sale. Customized hook overhead crane is available from overhead crane manufacturer-Dongqi Crane. Overhead crane with crane hook for sale!BMHHenan Dongqi Machinery Co., Ltd