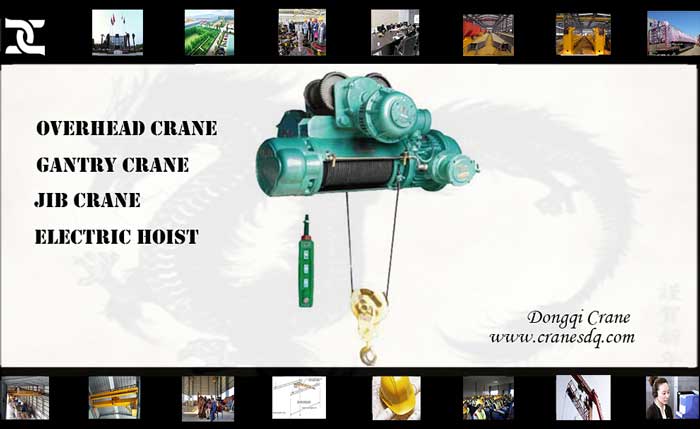 Explosion proof electric hoist introduction
Explosion proof electric hoist is a specially designed material handling equipment with the features of explosion proof. Explosion proof electric hoist is designed and manufactured according to GB3836-2000 provisions and international regulations, with the explosion proof mark of D II BT4, and D II CT4, which can be supplied to applications that has the level of II A, II B, II C grade, the temperature sub-groups T1-T4 group of combustible gas, steam and air from the explosion gas mixtures in a zone, zone 2 areas. The lifting capacity of explosion proof electric hoist is 0.5 to 16 tons and working class of explosion proof hoist is M3. The main parameters of the hoist is as follow:BW4Henan Dongqi Machinery Co., Ltd
| | |
| --- | --- |
| Product Type | BCD |
| Explosion Proof Hoist Lifting Capacity | 0.5~16t |
| Explosion Proof Hoist Lifting Height | 6~18m |
| Explosion Proof Hoist Working Class | M3 |
| Explosion Proof Hoist Ambient Temperature | -25~40℃ |
Applications of explosion proof hoist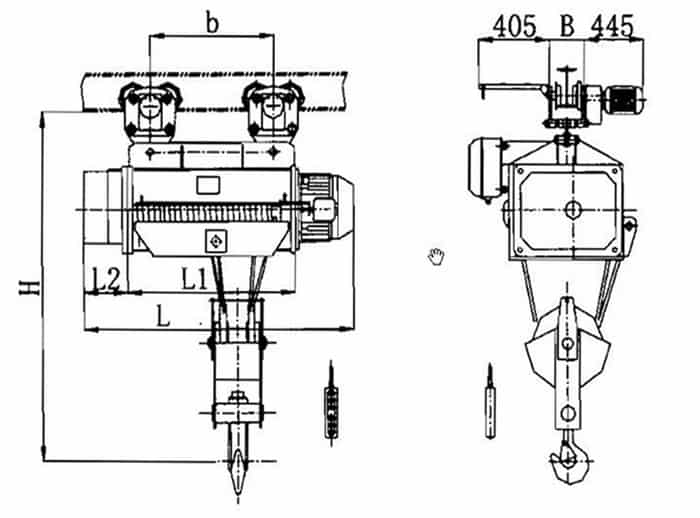 BW4Henan Dongqi Machinery Co., Ltd
Explosion-proof electric hoist drawingBW4Henan Dongqi Machinery Co., Ltd
Applications of explosion proof hoist
Explosion proof electric hoist can be used on the main I-beam track to run in straight or curve line to handle materials or installed on a fixed bracket as a lifting solution for heavy loads. Explosion- proof electric hoist also can be fixed to different applications, working with explosion proof single girder overhead travelling crane or with the explosion proof dual beam bridge crane, etc.BW4Henan Dongqi Machinery Co., Ltd
Environmental conditions of explosion proof hoist
Explosion proof electric hoist is applied to the environment with the elevation below 1000m, with relative humility, with the Class I, Class IIB and IIC.BW4Henan Dongqi Machinery Co., Ltd
The temperature scale of explosion proof hoist is class T1-T4 (explosion hazardous area).BW4Henan Dongqi Machinery Co., Ltd
Explosion proof electric hoist can be hanged on I beam rail, explosion proof single girder or double girder, or other fixed support for material handling, etc.BW4Henan Dongqi Machinery Co., Ltd
Advantages of explosion proof hoist
Explosion proof electric hoist from DQCRANES has the following advantages:BW4Henan Dongqi Machinery Co., Ltd
Compact structure, small size, light weight, large capacity.
High safety and reliability.
All the spare parts are generalized and changeable, which make hoist maintenance easy and simple.
No spark materials are used to the outside parts enhancing anti-explosion ability of electric hoist.
Explosion proof electric hoist is designed and manufactured according to GB3836-2000.
Features of explosion proof hoist
Explosion proof electric hoist from DQCRANES has the following features:BW4Henan Dongqi Machinery Co., Ltd
1. On lifting motorBW4Henan Dongqi Machinery Co., Ltd
Lifting motor used in explosion proof hoist is fully closed tapered rotor asynchronous motor of explosion-proof motor series.
Max .torque of lifting motor is 2-3 times of full loading, ensuring the safety and reliability of explosion proof hoist.
The lifting motor has the insulation class of B or F and the protection class is IP44/IP54.
2. Lifting reducerBW4Henan Dongqi Machinery Co., Ltd
Explosion proof hoist adopts standardized modulus of cylindrical gears, installed with antifriction bearing, which is convenient to maintenance.
High strength gear and gear shaft are made from heat treated alloy steel.
Lifting reducer shell is made of high quality cast iron which is closely assembled and is dust proof.
The lifting reducer can work reliably and high efficiency.
3. On hookBW4Henan Dongqi Machinery Co., Ltd
The hook of explosion proof electric hoist is made of high quality carbon steel, supported in the hook beam through a single scroll thrust bearing, free oscillation.
Hook for 5t and below loads is single slippery wheel whereas hook for 10t or heavier loads is double slide wheel.
Explosion proof hoist use hooks with card board type structure at hook end.
When explosion proof hoist is applied to application of explosion –proof dllCT4, the hood head will be made from stainless steel.
Protection devices are adopted, such as, up and down traveling limiter, overloading limiter, and anti-clashing devices, etc.
4. OperationBW4Henan Dongqi Machinery Co., Ltd
Explosion proof electric hoist can be operated through wire rope control and remote control. The explosion proof switches is safe and reliable.BW4Henan Dongqi Machinery Co., Ltd
Explosion proof hoist is a type of explosion proof equipment to ensure your hoisting safety and efficiency. Cost-effective explosion proof hoist is offered from explosion proof equipment manufacturer. Contact us for more informaiton on the explosion proof hoists and other explosion proof lifting equipment. BW4Henan Dongqi Machinery Co., Ltd
BW4Henan Dongqi Machinery Co., Ltd
Crane services of DQCRANES
DQCRANES can provide overall services for all types of industries cranes, and the main services are as follow:
Crane project design
Cranes designed by DQCRANES will solve any of your crane problems and material handling problems without spending any unnecessary expenditures.
Crane Installation
EASAY installation, wonderful working performance. DQCRANES can provide on-site crane installation services and our crane engineers will be at your services when necessary.
Lifetime Maintenance
Crane maintenance from DQCRANES ensures your safety and working efficiency.
Crane operator Training
DQCRANES training includes crane operation, maintenance and inspection, and crane spare parts, etc.
Technical support
The powerful technical support of DQCRANES will solve your crane technical problems.
Crane parts
DQCRANES parts will renew your cranes.