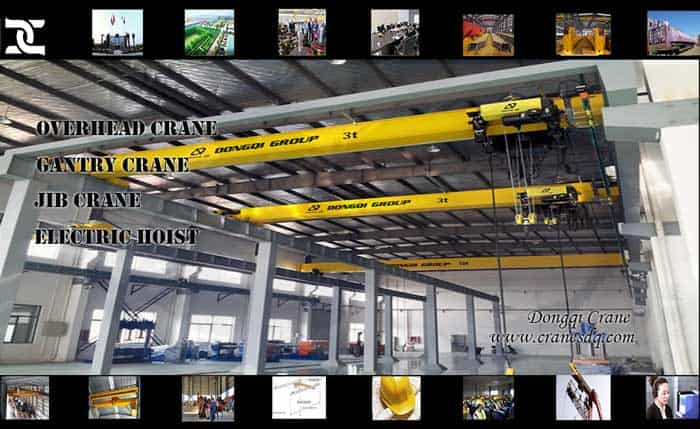 Electric Hoist Crane -- Electric Hoist Overhead Crane
Electric hoist overhead crane is a type of electric hoist crane which is a single girder overhead crane developed by DQCANES with New Zealand advanced crane design concept and technology, confirming with international standards, i.e. DIN, FEM and ISO. Electric hoist overhead crane as a specially designed material handling equipment has the advantages of high rigidity, light dead weight, and outstanding design, etc. Electric hoist overhead crane can save working space of your factory and save your investment cost, which will be your optimal choice. The lifting capacity of electric hoist overhead crane is around 1 to 30 tons and the working class is A5. Customized electric hoist overhead cranes are available from DQCRANES and the main parameters of electric hoist overhead crane are as follow.YB1Henan Dongqi Machinery Co., Ltd
| | |
| --- | --- |
| Product Type | HD |
| Lifting Capacity | 1~30t |
| Span Length | ≥6m |
| Working Class | A5 |
| Ambient Temperature | -25~40℃ |
Applications of Electric Hoist Overhead Crane
Single girder electric hoist overhead crane is widely used for material handlings in various workstations of machinery, metallurgy, petroleum, petrochemical, ports, railways, civil aviation, electricity, food, paper, building materials, electronics, etc. They are also widely used in the occasions of precise material handlings and precise assembly of large scale parts, etc.YB1Henan Dongqi Machinery Co., Ltd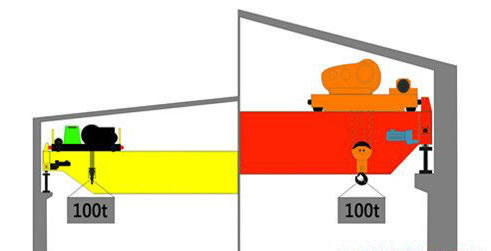 YB1Henan Dongqi Machinery Co., Ltd
European crane & traditional craneYB1Henan Dongqi Machinery Co., Ltd
Advantages of Electric Hoist Overhead Crane
Electric hoist overhead crane has the following advantages:YB1Henan Dongqi Machinery Co., Ltd
Optimized European design, light dead weight,
Small wheel load pressure, and compacted size,
Good driving capacity, double lifting speed,
Frequency control of trolley and crane,
Smooth and stable travelling.
Features of Electric Hoist Overhead Crane
Generally, electric hoist crane has the following features:YB1Henan Dongqi Machinery Co., Ltd
1. On mechanical parts:
Single main girder, welding box structure and camber meeting national standards.
Steel plate material Q235 or Q345B (equals to foreign steel plate Fe3 or Fe52).
Main welds joint adopts union melt welding, nondestructive inspection.
After welding, main girder is through shot blasting treatment, gets Sa2.5 class, and eliminate welding stress.
Main girder and end girder adopts bolted connection to ensure strength and accuracy of the whole set.
Trolley and crane adopt three-trinity driving mechanism, frequency stepless speed regulating, hard-tooth surface, disc brake.
Crane driving IP55, F class insulation, contact continuity reaches 40% ED.
Epoxy zin-rich paint, a long service life, beautiful outlook and lustre.
Crane buffer block, anti-derail end plate
2. On electrical parts
Safe slide wire: high conductivity, small voltage drop and swift current collector slide speed;
Lifting mechanism: independent control system for trolley and crane, synchronous and individual operation is possible;
Electric control box: reasonable layout, simple maintenance and insulation class IP55;
Cables: flat cable, galvanized track and cable pulley for trolley traveling power supply;
Electric contactless module speed regulation controlling.
3. Lifting mechanism
Details see European electric overhead hoist with wire rope.YB1Henan Dongqi Machinery Co., Ltd
4. Protection devices
Electric hoist overhead crane has the protection devices, such as, overload warning, secondary class anti-clamp, sound and light alarm devices, circuit self-check protector, and flow phase lack protection, etc.YB1Henan Dongqi Machinery Co., Ltd
5. Operation
Electric hoist overhead crane has several operation methods for your selection: ground flashlight door, remoter, flashlight door+remoter, etc.
Ground operation is simple and professional operator is not required and more freedom is given to the crane operator.
Double stop button or rocker type joystick.
Customized operation design is available.
European and Traditional Crane Comparison
Due to the designing concepts, European style single girder overhead crane has the features of small dimension, light dead weight, minimum limiting distance from hook to wall, lower headroom and higher lifting height, etc. Comparing with traditional overhead crane, European style single gird overhead crane has the advantage in the following ways:YB1Henan Dongqi Machinery Co., Ltd
Firstly, European overhead crane could provide more effective working space than traditional crane does.
Also, European overhead crane requires smaller workplace and has more functions. Thirdly, the wheel pressure of European crane is much smaller than the traditional one because of light dead weight.
Lastly and most importantly, European crane could save a substantial amount of money, spent on initial construction investment, long term heating fee, air conditioning and other maintenance fee.
All in all, European style single girder overhead crane is a good choice for your material handling. This type of hoist crane is study and good price, your ideal hoist crane. Check electric hoist overhead crane with Dongqi Now!YB1Henan Dongqi Machinery Co., Ltd