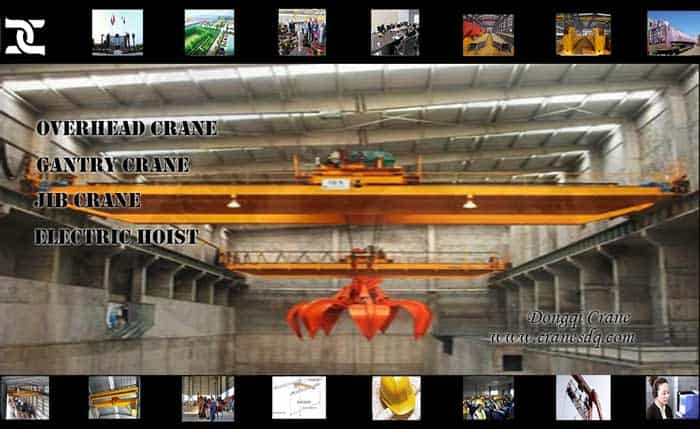 Grab crane introduction
Grab crane is a heavy duty overhead crane equipped with grab bucket, which can be used frequently. The lifting capacity of grab crane included the dead weight of the grab bucket is 5 ton to 25 tons. The working class of the grab crane is A6. The specifications of the grab crane is given in the following table for your reference and customized design can be provided by DQCRANES.BdMHenan Dongqi Machinery Co., Ltd
| | |
| --- | --- |
| Product Type | QZ |
| Grab Crane Lifting Capacity | 5~25t |
| Grab Crane Span Length | 10.5~34.5m |
| Grab Crane Working Class | A6 |
| Grab Crane Ambient Temperature | -20~40℃ |
Components of grab crane
Grab crane is mainly consisted of bridge frame, crane traveling mechanism, lifting trolley, electric equipment, grab bucket, etc.BdMHenan Dongqi Machinery Co., Ltd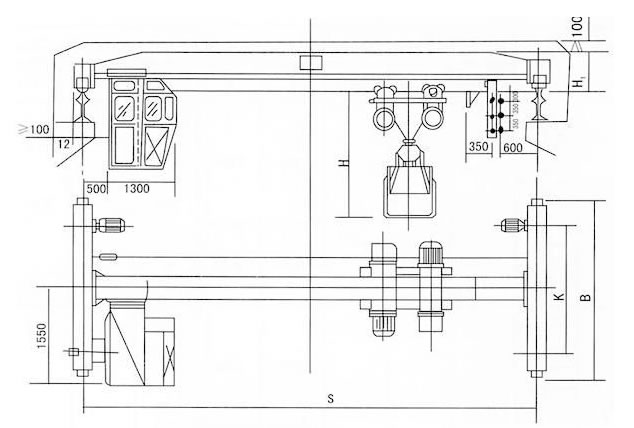 BdMHenan Dongqi Machinery Co., Ltd
Grab crane drawingBdMHenan Dongqi Machinery Co., Ltd
Application of grab crane
Grab crane is widely used in power station, storage, smelting workshop of steel mill, port, cement plant, and waste recycling station, etc. to load and unload scattered objects. The grab crane has a high requirements on heat, dust, and aggressive environment. DQCRANES can provide you the optimal grab crane to your applications.BdMHenan Dongqi Machinery Co., Ltd
Advantage and features of grab crane
Optimal designed grab cranes are widely used for serving stores and bunkers with automatic, semiautomatic and manual control.
Laser-assisted height measurement is equipped with the grab overhead crane.
Grab cranes can work all around clock.
Safety protection devices such as limit switches for lift and CT are equipped for safe lifting and traveling.
Overload Protection Device increases performance security.
Easy and convenient operation is realized by remote control of grab cranes.
Equipped with double speed mechanism, our grab cranes have a better working performance in terms of precision.
Low voltage protection, phase sequence protection and emergency stop device are equipped to grab cranes.
Warning indicators are installed: flashing lights and warning sound.
Grab bucket
Grab bucket is a tool for efficiently loading and unloading materials such as, sands, coal, mineral powder and bulk chemical fertilizer, etc. The grab bucket is equipped for the crane to grab bulk materials.BdMHenan Dongqi Machinery Co., Ltd
There are two types of grab buckets, the orange grab and clamshell grab. The orang grab is suitable for handling materials, such as, steel scrap, big iron stock, garbage, and steel mills whereas the clamshell grab is used to lift small bulk materials, such as, grain, bulk fertilizer, etc.BdMHenan Dongqi Machinery Co., Ltd
Grab crane is for 5-25 material handling with working class of A6. Dongqi grab crane is high safety and efficiency and cost-effective. Customized grab crane is available. Check the grab crane now!BdMHenan Dongqi Machinery Co., Ltd
BdMHenan Dongqi Machinery Co., Ltd