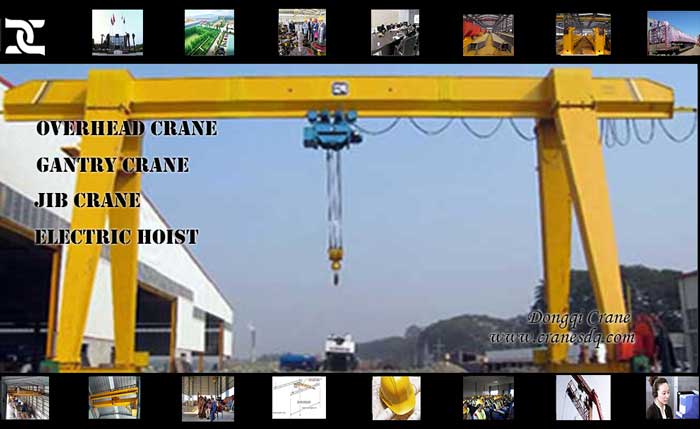 Single Girder Gantry Crane
Single girder gantry crane is a type of light small gantry crane with a single girder and rail travelling. The single girder gantry crane is designed for generally material handling, with the lifting capacity around 1 to 20 tons, and working class A3, or A4. The specification of the single girder gantry crane is as follow:N5aHenan Dongqi Machinery Co., Ltd
| | |
| --- | --- |
| Product Type | MH |
| Lifting Capacity | 1~20t |
| Span Length | 8~30m |
| Working Class | A3, A4 |
| Ambient Temperature | -25~40℃ |
Components of Single Girder Gantry Crane
Single girder gantry crane is mainly consisted of gantry frame, i.e. main single girder, legs, bottom end beams, lifting mechanism, travelling mechanism, and electrical control. It can be designed with two hanging arms, one hanging arm or no-hanging arm according to client's lifting requirements and application environment.N5aHenan Dongqi Machinery Co., Ltd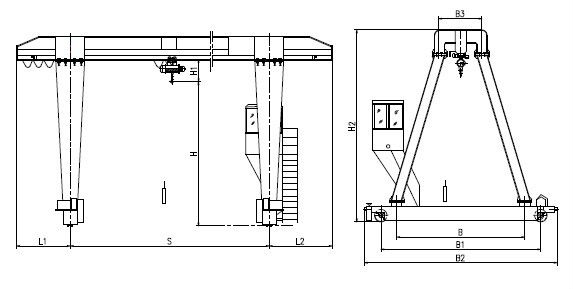 N5aHenan Dongqi Machinery Co., Ltd
Single girder gantry crane drawingN5aHenan Dongqi Machinery Co., Ltd
Classification of Single Girder Gantry Crane
Single girder gantry crane can be divided into box type and truss type.N5aHenan Dongqi Machinery Co., Ltd
Box typeN5aHenan Dongqi Machinery Co., Ltd
The box type single girder gantry crane is a medium sized crane, travelling in track , usually equipped with standard CD MD electric hoist as the lifting mechanism, and the electric hoist traversing along the lower flange of the I- steel of the main girder, which is made of high quality steel plates, such as, C-steel and I-steel.N5aHenan Dongqi Machinery Co., Ltd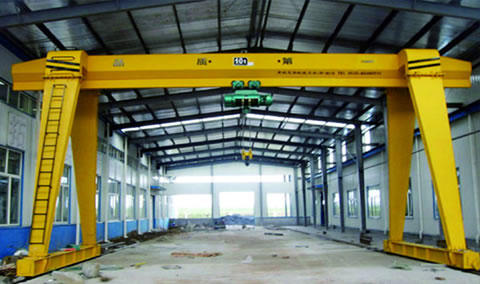 N5aHenan Dongqi Machinery Co., Ltd
Truss typeN5aHenan Dongqi Machinery Co., Ltd
The truss single girder gantry crane differentiates itself with the box type crane in terms of structure construction. The former is made of steel bars and the latter is made of steel plates. The truss gantry crane is much lighter than that of the box type gantry crane and it has high wind resistance.N5aHenan Dongqi Machinery Co., Ltd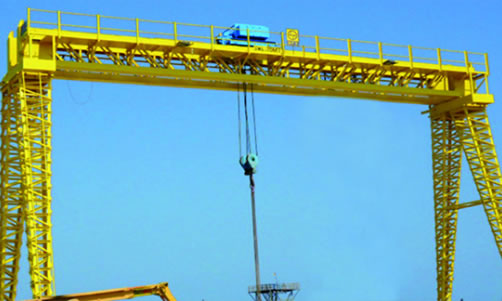 N5aHenan Dongqi Machinery Co., Ltd
Application of Single Girder Gantry Crane
Single girder gantry crane is regular crane, designed for general material handling , which is frequently used at open ground, warehouse, ports, granite industry, cement pipe industry, open yard, container depots and shipyards, etc. However, it is forbidden to handle melt metal, inflammable. Or explosive objects.N5aHenan Dongqi Machinery Co., Ltd
Advantages of Single Girder Gantry Crane
Simple structure, Easy installation
Good usability and high performance efficiently
Low and easy maintenance
Standardized, generalized and serialized parts.
Safety Feature
Overload protection devices is equipped which will give a sharp alarm warning when overloads happen.
Limit switches is used to prevent over lifting or lowering of the crane hook.
High quality polyurethane buffer is used to ensure a long time working life.
Room control and remote control are available for the sake of your operator's safety.
Low voltage protection is used in case of the unstable voltage supply.
Emergency stop button is installed to brake the equipment when emergency happens.
Current overload protection system and others, etc.
Gantry crane with single girder for 1 to 20 tons material handling at your selections. Single girder gantry crane direct sale form gantry crane manufacturer with good price now. Contact us for more informaiton on the single girder gantry crane now! N5aHenan Dongqi Machinery Co., Ltd