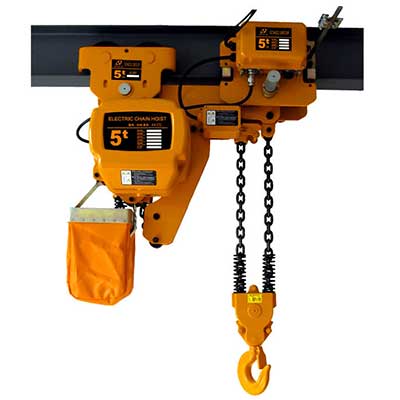 Electric Chain Hoist Introduction
Electric chain hoist is a light and small lifting equipment for material handling. Electric chain hoist is mainly consisted of motor, transmission mechanism and chain wheel, etc. Electric chain hoists from DQCRANES have the features of beautiful outlook, solid durability, and international technology, etc. The inside gears of electric chain hoist are hot quenched which increases the wear resistance of the gear and toughness. The lifting capacity of electric chain hoist is 0.5 to 35 ton, and the working class is M3 or M4. The main parameters of electric chain hoist are as follow:NnRHenan Dongqi Machinery Co., Ltd
| | |
| --- | --- |
| Product Type | DHT,WBH |
| Lifting Capacity | 0.5t~35t |
| Lifting Height | 3~50m |
| Working Class | M3,M4 |
| Ambient Temperature | -25~40℃ |
Electric Chain Hoist Drawing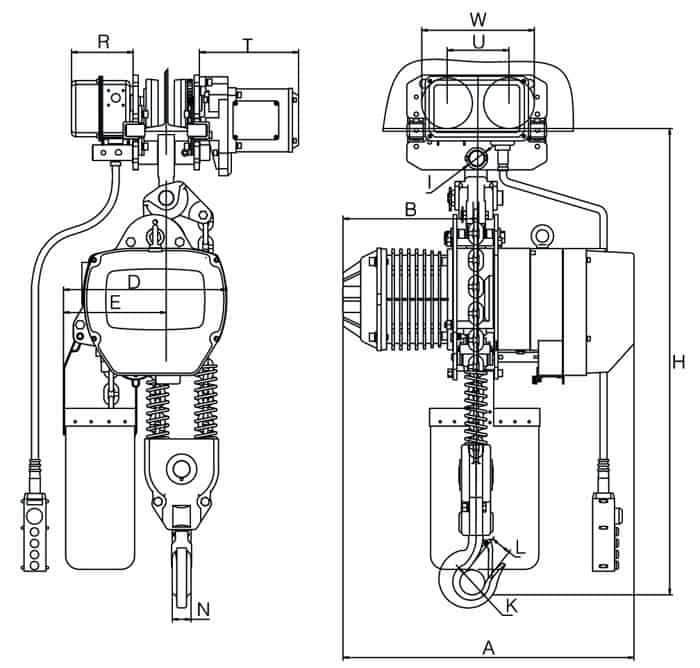 Electric Chain Hoist DrawingNnRHenan Dongqi Machinery Co., Ltd
Applications of Electric Chain Hoist
DQCRANES' electric chains hoists have a wide range of application, which can be used in various factory, storage, wind-power stations, logistics, ports, construction field, and other places or workshops, etc. Electric chain hoist also can be used to handle heavy objects for working or reparation. Electric chain hoist can be used together with monorail electric trolley for material handlings.NnRHenan Dongqi Machinery Co., Ltd
Advantages of Electric Chain Hoist
Electric chain hoist is designed with compact structure, small size, and light dead weight. DQCRANES' electric chain hoist is reliable, easy operation, and wide application, etc.NnRHenan Dongqi Machinery Co., Ltd
Features of Electric Chain Hoist
1. On structure features.
The body of electric chain hoist is made from high strength tensile shell or it can be die casting aluminum case based on your requirements. The molding process thin-walled precision manufacturing made the body small size, low weight, high strength.
Separated speed adjusting system is adopted by our electric chain hoist. And the level 2 coaxial transmission speed gear mechanism uses long services oil bath lubrication system.
Electric hoist powder metallurgy clutch is adopted for overload protection.
The brake disc adopts dc magnetic field, braking torque, which is stable, rapid and low in noise, etc.
2. On lifting motor.
The lifting motor of electric chain hoist can work continuous for 30 minutes with full loading, high performance efficiency and has Grade B insulation.NnRHenan Dongqi Machinery Co., Ltd
3. On lifting chain.
The lifting chain of electric chain hoist is made of low carbon steel alloy, which makes the chain more toughness, strong and wear-resisting, ensuring the safety during work, etc.
The hardened chain surface of electric chain hoist can prevent core material and products from damage to ensure the high performance and long service life of hoist chain.
Lifting chain can be extended based on customer's requirement and enables the electric chain hoist more convenient, etc.
Equipped with chain bag, the electric chain hoist is more orderly, tidy and beautiful. The chain bag contains antirust oil so that the lifting chain is kept from rusty and the working life is extended.
4. Double brake system
Electric chain hoist adopts two sets of braking systems, which reduces the possibility of brake failure and increases hoist safety and do benefit for heat radiation.NnRHenan Dongqi Machinery Co., Ltd
1) Electromagnetic brake.NnRHenan Dongqi Machinery Co., Ltd
The electromagnetic brake system is a new style brake, with the features of fast and forward direction. Asbestos brake lining has greatly extended the maintenance cycle. The brake system has been tested by above 22500 times.NnRHenan Dongqi Machinery Co., Ltd
2) Mechanical brakeNnRHenan Dongqi Machinery Co., Ltd
The mechanical brake has high reliability. The mechanical braking and electromagnetic brake can coordinate with each other to stop electric chain hoist at any time when necessary.NnRHenan Dongqi Machinery Co., Ltd
5. On gear.
Standardbred chain electric hoists mainly adopt reliable helical gear, which can prolong service life by reducing the impact of meshing and vibration.
The durability of gear is enhanced by the special design. And fine heat treated alloy steel is used to make the gear obtain the biggest strength.
6. Control handle with low voltage
Electric chain hoist can be controlled by handle or ground or wire ( no-wire) remote control.
The standard low-voltage on chain hoist handle is 24v-36v, which can effectively protect the operator from a shock damage.
Electric chain hoist for sale from Chinese electric chain hoist manufacturer- Dongqi Crane, with affordable price and super quality. Dongqi electric chain hoist is given one year quality gurantee. Contact us for morinformation on the electric chain hoist now!NnRHenan Dongqi Machinery Co., Ltd