Jib Crane - Easy Material Handling for You!
Jib cranes are the optimal lifting equipment for short transfer applications. DQCRANES can provide you the wall travelling jib crane, pillar jib crane and wall mounted jib crane, etc. DQCRANES jib cranes can lift and transport materials in semi circles or full circles around their support structures to provide localized material handling in work cells, to supplement a large overhead crane system, to transfer materials from one work cell to another, and to lift a line load up to the rated capacity safely.
Main classification of jib crane
Jib crane offering of DQCRANES
As a professional jib crane manufacturer and supplier, Dongqi can offer various types jib cranes with different specifications.
Pillar jib crane 3 D presentation and Wall-mounted jib crane 3 D presentation video
| | | |
| --- | --- | --- |
| BB Wall-travelling Jib Crane | BZ Pillar Jib Crane | BX Wall Mounted Jib Crane |
| | | |
| Lifting capacity: 0.5-16t, Lifting height: 6-30m, Working class: A3. | Lifting capacity: 0.25-1t, Lifting height: 1-10m, Working class: A3. | Lifting capacity: 0.25-1t, Lifting height: 1-10m, Working class: A3. |
Pillar jib cranes offering of Dongqi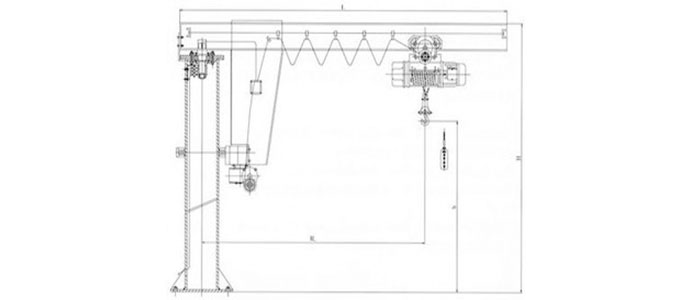 0.5 ton pillar jib cranes specifications, 1 ton pillar jib cranes specifications, 2 ton pillar jib cranes specifications,3 ton pillar jib cranes specifications, 5 ton pillar jib cranes specification
Wall travelling jib cranes of Dongqi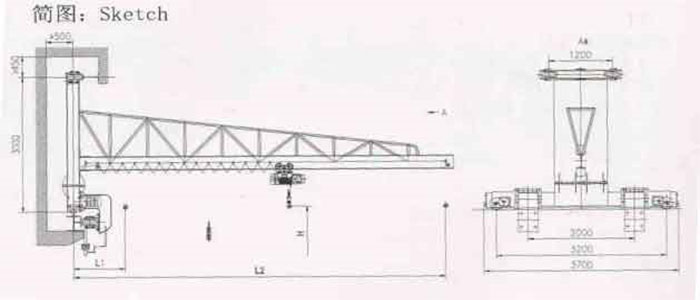 0.5 ton wall-travelling jib cranes , 1 ton wall-travelling jib cranes, 2 ton wall-travelling jib cranes, 3 ton wall-travelling jib cranes
Wall-mounted jib cranes offering of Dongqi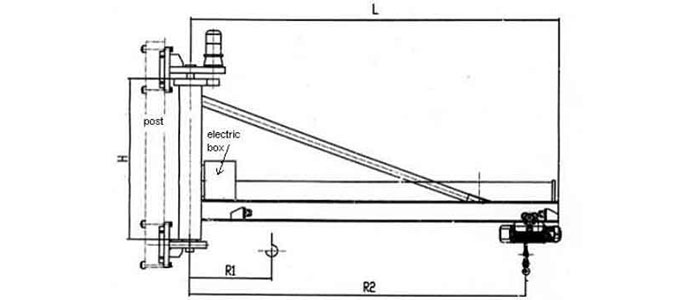 0.25 ton wall mounted jib cranes, 1.5 ton wall mounted jib cranes, 1 ton wall mounted jib cranes
Winning points of Dongqi jib cranes
In order to win the international jib crane market, Dongqi Crane exceeds itself in providing superior quality jib cranes and jib cranes services. Dongqi Crane is dedicated itself to win the smiles of you, though the efforts in the following aspects:
Customized jib crane perfectly fits your application environment.Taking your building and working conditions and your lifting requirements into full consideration, the engineering team of DQCRANES will work out a jib crane which will adapt your facility ideally.
Types of quality jib cranes with various tonnages are available which can meet your lifting requirements.
Hot designs of Dongqi jib crane
Generally, jib cranes can be divided into free standing jib crane, wall mounted jib cranes, wall traveling jib cranes, etc. More on jib crane design and jib crane design pictures, please click.
Most popular jib crane tonnages
1 ton jib crane, 2 ton jib crane, 3 ton jib crane, 5 ton jib crane, 10 ton jib crane
Lifetime care is given to your jib crane to maximize your jib crane value.
DQCRANES cares your jib crane through the whole working life and we provide overall jib crane services for your jib crane safety. Dongqi jib crane service includes: jib crane design, jib crane installation, jib crane operator training, jib crane inspection, etc.
Competitive jib crane price is the unbeatable advantage of Dongqi Crane.
On ensuring jib crane quality, DQCRANES is delicate to lowering the jib crane price to lower your purchasing cost.
Jib Crane Applications
The general applications scope and conditions of jib crane is as follow:
Ambient temperature: -25℃ to + 40 ℃;
Humidity ≤85%;
Elevation below 1000m;
Power is 3-PH, 380V, 50 HZ (The customized is available.)
2. The jib cranes from DQCRANES are widely used in the following applications:
Jib cranes are widely used in workstations, storage, yard and other fixed or localized places, etc.
Jib cranes are the choices for material handlings in short-distance or serried places, such as, transferring materials from one work cell to another.
Jib cranes can be used to supplement a large overhead crane for material handling.
Jib cranes can be used for suspension of tools
Jib cranes also can be used for economical outdoor applications.
Jib cranes are not allowed to be used in dangerous applications such as inflammable, explosive, and corrosive working environments, etc.
Main features of jib crane
Jib crane generally has the following features:
As a newly developed material handling equipment, jib cranes can be used freely in three dimensional space.
Jib cranes are designed with special structure, high safety and reliability, high efficiency, which can save your energy and time.
Jib crane covers small working area, and is easy to operate and maintain, rotary flexible, economic and durable.
Standards applied in DQCRANES Series of standards and regulations are applied during the whole production process of jib cranes from design to production, etc. The main standards and regulations are Crane Design Standards, Crane Machinery Safety Procedures, Crane Test Specification and Procedures, and Jib Cranes, etc.
Tests of Jib cranes
In order to ensure the quality and safety of jib cranes, varies of tests will be conducted, such as, Unloaded Test, Rated Load Test, Fixed Loaded Test, and Moving Loading Test, etc.
Jib crane services of DQCRANES
DQCRANES can provide overall jib crane services for all types of industries jib cranes, and the main services are as follow:
Jib crane project design
Jib cranes designed by DQCRANES will solve any of your jib crane problems and material handling problems without spending any unnecessary expenditures.
Jib crane installation
EASAY jib crane installation, wonderful working performance. DQCRANES can provide on-site jib crane installation services and our jib crane engineers will be at your services when necessary.
Jib crane lifetime maintenance
Jib crane maintenance from DQCRANES ensures your jib crane safety and working efficiency.
Jib crane operator training
Dongqi jib crane training includes jib crane operation, maintenance and inspection, and crane spare parts, etc.
Jib crane technical support
The powerful jib crane technical support of DQCRANES will solve your jib crane technical problems.
Jib crane parts
Dongqi jib crane parts will renew your jib cranes.
Tips on jib crane selection
How to choose the optimal jib crane for your application? How will the jib crane affect your working efficiency? How will it be used in daily operation? In order to answers these questions, the following factors have to be considered when select the jib crane for your applications:
The conditions of your available structural support.
Your anticipated requirements for the material handling equipment, the crane or the hoist.
The features and advantages of each type of material handling equipment.
The overall height and headroom height available.
The cost of each type of jib crane.
The overall cost of installation, training, maintenance, and after-sales services, etc.
Still don't know how to choose? Don't bother and hand the problems to DQCRANES, your material handling expert at your side. Free consultations may lower your crane purchasing costs. DQCRANES is here to lift you up! Contact us NOW! Jib Crane Questions You May Ask
Can we mount our jib differently?The only foundation mounting Dongqi Crane recommends is the one shown on the approval drawing supplied with the crane. A qualified person must determine the adequacy of any other method of mounting.
How critical is leveling and how accurate does plumb have to be with floor mounted jib cranes? The vertical column of a floor mounted crane should be plumb. These cranes rotate very easily. With a load on the boom, if the column is not plumb, the boom may rotate by itself. In order to prevent unwanted boom rotation, it is beneficial to spend extra time ensuring the column of a floor mounted jib crane is plumb.
How often is concrete poured accurately enough to merit not using a mortar bed? Alternatively, should it be standard practice to use a mortar bed? Most installers will finish the concrete very flat and then bolt the jib crane column directly to the foundation. Our jib columns generally are very square because they are welded on a rotating semi-robotic jig. However, no weldment is perfect. The use of a mortar bed to correct any imperfections in the finish of the foundation or to plumb the jib crane column is perfectly acceptable.
What additional items do I need to mount the jib? Floor mounted jibs require a concrete foundation with reinforcing steel rods and anchor bolts embedded in the concrete. The wall-mounted jibs require high strength mounting bolts. These bolts must be no less than Grade 5 quality. The size is specified on the approval drawing and ranges from ½ to ¾ inch diameter. Usually a minimum of a man-lift and a forklift truck are required to install the cranes. Large cranes may need additional equipment for installation.
Where is a wall jib mounted? Wall mounted jibs must be mounted to a structure determined to be adequate by a qualified person. The thrust and pull forces given for each jib, the weight of the jib, the capacity, impact, and hoist weight are some of the factors that must be taken into consideration.
What are the bolt/nut torque requirements for mounting?
1" Mild steel anchor bolts/nuts or GR2 - 200 ft-lbs. max
3/4" Mild Steel anchor bolts/nuts or GR2 - 150 ft-lbs. max
3/8" Grade 5 bolts/nuts - 20 ft-lbs.
1/2" Grade 5 bolts/nuts - 50 ft-lbs.
5/8" Grade 5 bolts/nuts - 100 ft-lbs.
3/4" Grade 5 bolts/nuts - 175 ft-lbs.
1" Grade 5 bolts/nuts - 200 ft-lbs.
6. How are the jibs shipped? Most jibs are shipped by a common carrier. They are usually shipped loose in a closed trailer with the hardware in a separate box. Some of the larger cranes require a flat-bed truck or trailer. Other methods are available. For an additional fee, units may be palletized to protect the finish.
7. Can I get the jib with motorized rotation? Both wall mounted and floor mounted jib cranes can be fitted for motorized rotation.
8. Is the jib available in different colors or finishes? Please contact us for details and pricing.
9. Can I use a jib outdoors? Our standard jib cranes are designed for indoor use. We can provide special shielding on the jib for outdoor use. Special maintenance will be required for jibs used outdoors. Please contact us for details and pricing.
10. What government or industry standards apply to these jibs?
Where Applicable:
Occupational Safety and Health Administration, General Industry standards
American Institute of Steel Construction
American Society of Mechanical Engineers/American National Standard ANSI B30
National Electric Code ANSI/NFPA 70
American Welding Society AWS-D14.1 & D1.1
What is the life expectancy of Dongqi jib cranes?
A jib's life expectancy depends on the environment, the severity and frequency of use, the ambient temperature, and other factors. For this reason, we cannot provide a value for life expectancy. Dongqi jib cranes are designed for daily use, and with the exception of routine maintenance, should provide years of trouble free operation.
11. Does the capacity include the hoist weight? The rated capacity of the jib is the maximum "live load" the jib can pick up. A typical hoist and trolley weight is assumed and added to the rated capacity for design purposes. These assumed weights are 15% of the rated capacity and are not considered part of the "live load". However, hoist and trolley weights greater than 15% of the rated capacity should be considered part of the "live load".
Dongqi Crane Products and Services