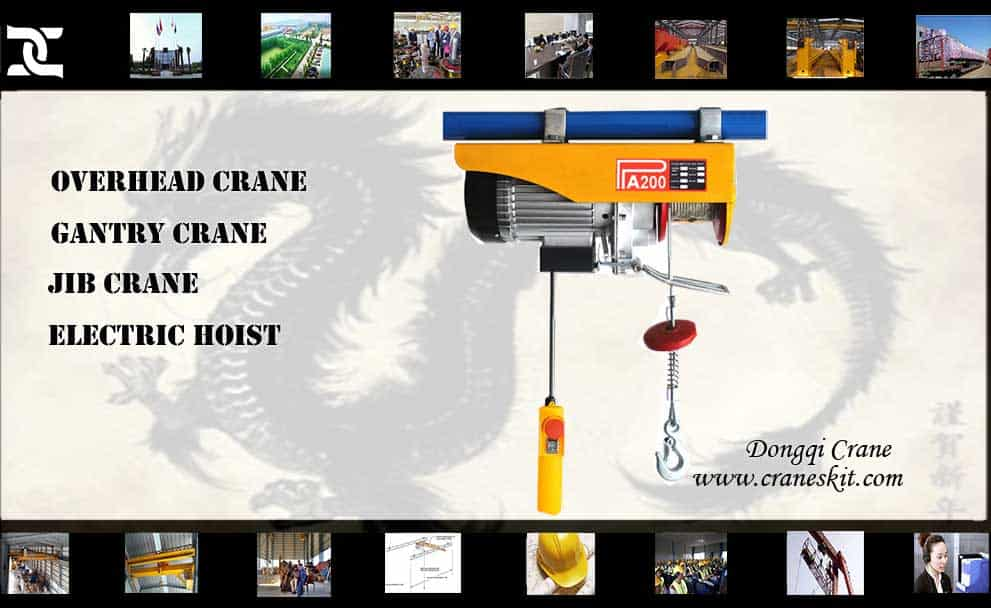 Small electric hoist introduction
Small electric hoist or mini electric hoist or civil electric hoist is a light lifting equipment, used for material handling in various applications to lift and transport loads under 1000kg. Small electric hoist or mini electric hoist has the lifting capacity of 0.2 to 1 ton and the working class is M3. The lifting speed of small electric hoist is up to 10 m/min, and the designed steel wire rope can reach up to 12 meters which can be customized. The main parameters of the small electric hoists are as follow:xlcHenan Dongqi Machinery Co., Ltd
| | |
| --- | --- |
| Product Type | PA200~PA999 |
| Small Electric Hoist Lifting Capacity | 0.2~1t |
| Small Electric Hoist Lifting Height | 3~24m |
| Small Electric Hoist Working Class | M3 |
| Small Electric Hoist Ambient Temperature | -25~40℃ |
Application of small electric hoist
Small electric hoist is usually used to handle materials with light loads in factories, mines, electric power, construction, warehouse, lifting cargo, loading and unloading the trucks, and other modern industries, pine line, assembly, logistics, transportation, and other occasion.xlcHenan Dongqi Machinery Co., Ltd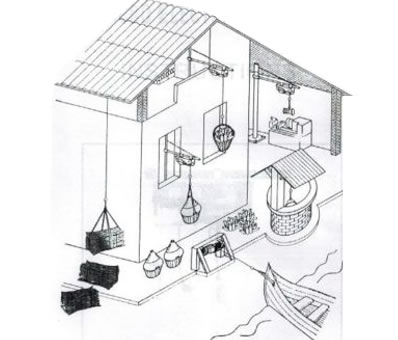 xlcHenan Dongqi Machinery Co., Ltd
Mini Hoist Application DrawingxlcHenan Dongqi Machinery Co., Ltd
Advantages of small electric hoist
Wide application. Mini electric hoist can be used on civil and industrial area.
Constant to use. Mini electric hoist is easy to control, install, and saving space.
Advanced design. Reasonable design, compact structure, light weight, beautiful appearance, confirming to international standards.
High quality and safety. High quality materials, and durable parts grantee the quality and safety of mini electric hoist.
Cost-effective. Low cost however with long service life.
Features of small electric hoist
Small electric hoists are designed and manufactured according to international standards which can guarantee the quality of electric hoist and the security during hoist operation. The main features of small electric hoist are as follow:xlcHenan Dongqi Machinery Co., Ltd
On lifting motor. Class B insulation motor is alongside magnetic type one-way capacitance, and the class B insulation motor is designed and used to stall the brake alongside magnetic mechanism, guaranteeing the safety and reliability.
On reducer. Gear and shaft are made of high quality steel. Secondary reduction gear is used. Reducer and gear constitute an organic whole, with aluminum alloy die casting, making small electric hoist structure compact, durable and beautiful.
On rope drum and chassis. High quality rope drum and reliable chassis are used.
On hook. Designed as advanced double setting, mini electric hoist lifting weight is increased greatly.
On safety. Urgent stop switch, reinforced braking switch and position limit are installed. Protection class is IP54. Thermal protection device is adopted.
xlcHenan Dongqi Machinery Co., Ltd