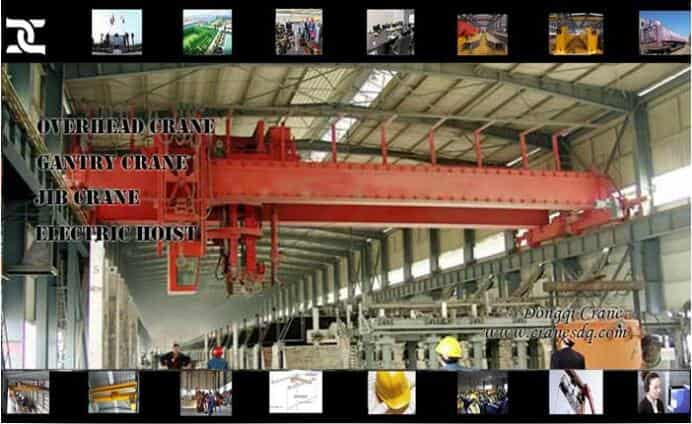 Electrolytic aluminum crane introduction
Electrolytic aluminum crane is a specially designed material handling equipment for large prebaked sintering anodes electrolytic aluminum plant in aluminum smelting industry. Electrolytic aluminum crane can largely improve the working conditions and efficiency in aluminum plant. DQCRANES can provide customized electrolytic aluminum crane for your workshop and plant.A51Henan Dongqi Machinery Co., Ltd
Applications of Electrolytic aluminum crane
Electrolytic aluminum crane is mainly used in large scale aluminum plants to tap hot metal from electrolytic cells, raise beam, remove floor slab, remove and replace pot shell, etc. A51Henan Dongqi Machinery Co., Ltd
Electrolytic aluminum crane can be used continuously in extreme temperatures and in an electrically charged environment with high levels of magnetic flux.A51Henan Dongqi Machinery Co., Ltd

Functions of Electrolytic aluminum crane
Electrolytic aluminum crane is specially designed for the aluminum plant which can pleasantly meet the demands of the applications with the following functions:
Hit electrolyte crust in electrolytic bath;
Add alumina powder in electrolytic bath with feeding system;
Replace the anode with twist draw mechanism;
Tapping trolley loads the molten aluminum ladle in order to absorb molten aluminum and transport the ladle;
Lift positive bar by the electric hoist;
Install and overhaul the electrolytic bath;
Other material handling works, etc.
Features of electrolytic aluminum crane
The product adopt fully hydraulic, Pneumatic System.
The main trolley has the function such as crust breaking, go up and down, Crust breaking head tilt and continuous knock.
The feed pipe can go up and down and rotate. The feed bin vibrate on time automatically, has the material level auto-alarm function;
The cabin room can do horizontal rotation and be installed with auto lift straight ladder.
The trolley is installed with auto counterpoint feeding system;
All adopt PLC control, have both cabin room control and remote control. It adopt more techniques such as overload limiter, aluminum discharging electronic scale load weighing device, OSD, etc.
Radio remote operation gives crane operators best visibility and high safety.
Besides main brakes on gearbox first reduction shaft, a safety disk brakes is installed on the main crane barrel of hoist.
High quality motors and controls are adopted to withstand high temperature and humidity in the special environment.
Multiple insulations is provided at hook, on frame and between frame and crane bridge, which ensures electrolytic aluminum crane to work safely in the charged working conditions.
Safety features of electrolytic aluminum crane
Safety always ranks top. In order to ensure the safety of your material handling equipment and working staff, the following devices are shown as follow:A51Henan Dongqi Machinery Co., Ltd
Crane traveling limit switch
Crane weight overload protection device
Lifting height limit device
Voltage lower protection and phase sequence protection function
Emergency stop device
Warning devices: flashing lights and warning sound.
Wireless infra-detector for anti-collusion, etc.