The quality control system of DQCRANES focuses on process of control, putting the philosophy of crane quality control into design, manufacture, test and all the other processing procedures. DQCRANES adopts advanced testing equipment to supervise each procedure of the crane production and to guarantee the quality of each crane product of DQCRANES.cTrHenan Dongqi Machinery Co., Ltd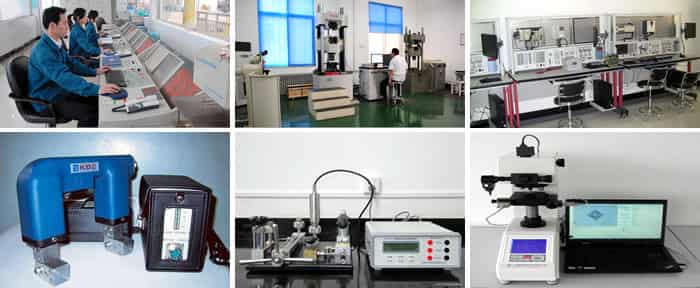 cTrHenan Dongqi Machinery Co., Ltd
Testing equipment of DQCRANEScTrHenan Dongqi Machinery Co., Ltd
DQCRANES Quality control measures
Quality is the life of DQCRANES, and the pursuing of superior quality is meant to satisfy the various material handling requirements of customers. In order to service you with high quality material handling equipment, DQCRANES adopts the following crane inspection checklist and conventional quality assurance measures:cTrHenan Dongqi Machinery Co., Ltd
Steel structure control
The quality of crane steel structure is vital which will be inspected in terms of steel quality and welding quality.cTrHenan Dongqi Machinery Co., Ltd
On steel quality. All the steel materials will be inspected by professional QC in terms of material, size, configuration, weight and allowable deviation before entering into DQCRANES' store. The inspection standard of DQCRANES is the national standard of GB/T 700-2006, GB/T 709-2006, GB/T3274-2007, and GB/T 1591-2008.
On welding quality. All weld groove form, size, welding materials are required to strictly abide by welding procedure specification and blueprint requirements. In order to ensure the welding quality, the following tests are adopted, such as, appearance detection, nondestructive testing, radiographic testing, ultrasonic testing, penetrate testing, magnetic particle testing, etc. by referring to the national standard GB/T 3323-2005, JB/T 10559-2006,JB/T 6062-2007.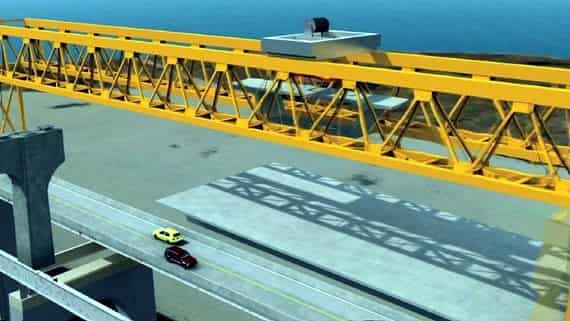 cTrHenan Dongqi Machinery Co., Ltd
Crane steel structurecTrHenan Dongqi Machinery Co., Ltd
Mechanism Control
On wheels. The wheels are guaranteed to be made of casting steel ZG340-640 or low alloy steel ZG-50iMn, and the wheel tread depth of hardening is ≥20mm, rolling surface hardness of casting steel ZG340-640 is 300-350HB while that of ZG-50iMn is 420-480HB. National standard of JB/T 6392-2008 is applied to the quality controlling of mechanical property, accuracy, and roughness.
On crane hooks. The forging hooks will be inspected according to GB/T10051-2010, which are graded into M,P, S, T, V in terms of strength. And in terms of shape of crane hook, the top of the crane hook should be made of DG20, DG20Mn, and DG34CrMo.
On wire rope. The wire rope are specially designed steel wire rope for cranes, which will be tested in terms of technical requirements and mechanical properties, according to standards of GB/T 20118-2006 and GB 8919-2006.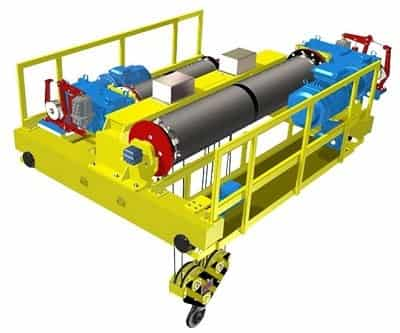 cTrHenan Dongqi Machinery Co., Ltd
Crane trolleycTrHenan Dongqi Machinery Co., Ltd
Assembling Control
On crane span. The stiffness and camber of crane span have to be inspected according to corresponding national standards and the process inspection will be conducted by referring to factory records.
On painting. The painting surface has to be pretreated by shot peening to reach grade Sa2 1/2 and then the total film thickness should be guaranteed around 75μm~105μm.The painting adhesion is inspected according to the class I of GB/T 9286.
Crane loading tests. The bearing capacity and mechanism function of cranes will be tested in the process by doing static loading tests and dynamic loading test.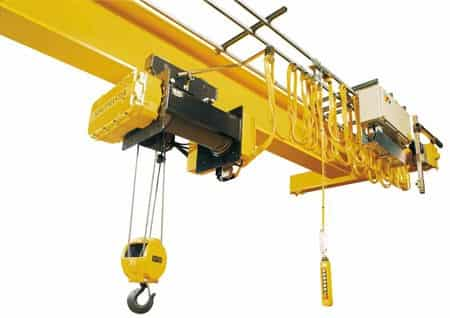 cTrHenan Dongqi Machinery Co., Ltd
Cranes after installationcTrHenan Dongqi Machinery Co., Ltd
Crane inspection checklist and testing methods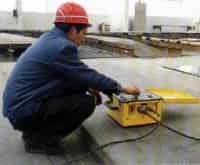 1) Radiographic Testing(RT). X ray, Y ray or neutron ray is used to test the discontinuity of materials and to inspect the inside defectcTrHenan Dongqi Machinery Co., Ltd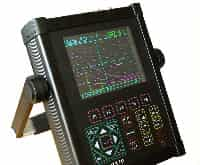 2) Ultrasonic Testing (UT). Ultrasonic is used to detect the internal defects of the metal materials, such as, pipe, plate, bar, and weld with the features of fast, low cost and wide application.cTrHenan Dongqi Machinery Co., Ltd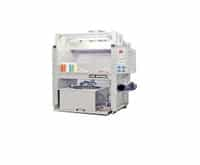 3) Penetration Testing (PT). It is also used to detect the internal defects of metal materials, just like ultrasonic testing. Double testing are providing absolute quality assurance.cTrHenan Dongqi Machinery Co., Ltd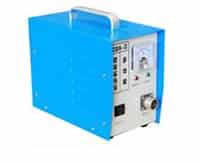 4) Magnetic Testing(MT) . Magnetic leakage and appropriate test is used to find the discontinuity on specimen surface and near surface.cTrHenan Dongqi Machinery Co., Ltd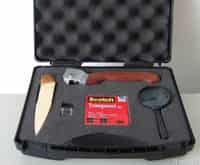 5) Coating testing. The quality of coating is tested in terms of film performance, mechanical properties, i.e, thickness, adhesion, gloss, etc, and special properties, i.e. corrosion resistance, oil resistance, and acid resistance, etc by coating thickness tester, adhesion tester, tester, film girding instrument, etc.cTrHenan Dongqi Machinery Co., Ltd
6) Metal hardness testing. The commonly used static testing methods such as HB, HRC, HV, and . HL are used to detect the resistance ability of metal materials.cTrHenan Dongqi Machinery Co., Ltd