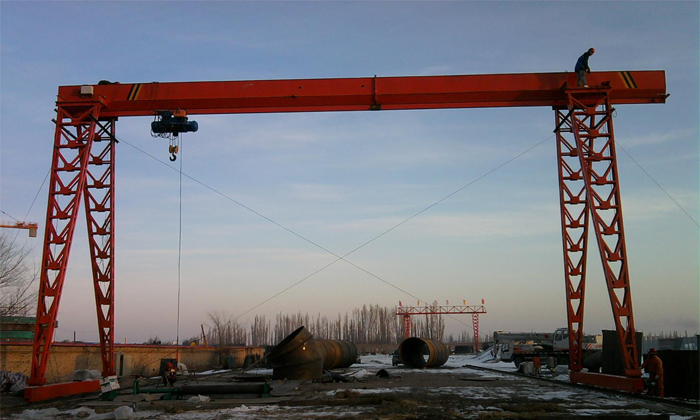 Single girder gantry crane mostly used for outdoor processing and medium size material handling, combine with single crane beam, two supporting legs, shape as A frame gantry. Also, we have another type single girder gantry crane, it is with L shape leg.FYiHenan Dongqi Machinery Co., Ltd
FYiHenan Dongqi Machinery Co., Ltd
Types of Single Girder Gantry Crane
Single girder gantry crane is widely used to lift and transport heavy items and it can be designed and produced with different configurations according to different work occasions and needs. There are mainly three types of singe girder gantry crane:FYiHenan Dongqi Machinery Co., Ltd
MH Single Girder Gantry Crane (A frame)
Single girder gantry crane is a type of light small gantry crane with a single girder and rail travelling. The single girder gantry crane is designed for generally material handling, with the lifting capacity around 1 to 26 tons, and working class A3, or A4.FYiHenan Dongqi Machinery Co., Ltd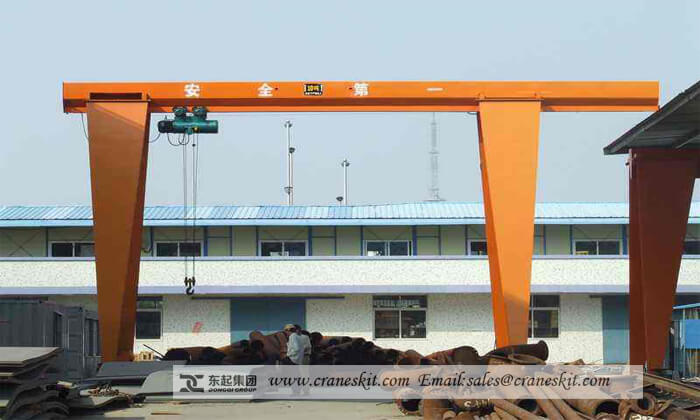 FYiHenan Dongqi Machinery Co., Ltd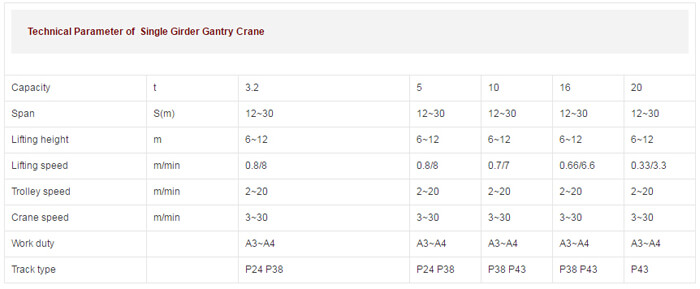 FYiHenan Dongqi Machinery Co., Ltd
L Type Single Girder Gantry Crane
L type single girder gantry crane is a mid –light type gantry crane, equipped with electric and crane hooks, with the obvious features of " L" shape legs, which makes the crane more convenient for handling cargo with long length, such as, steel pipe, etc. The lifting capacity of the electric trolley gantry crane is 5 to 50 ton and working class is A5 and A6.FYiHenan Dongqi Machinery Co., Ltd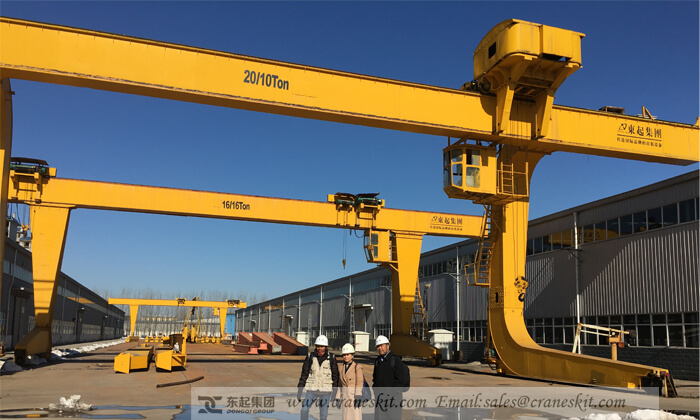 FYiHenan Dongqi Machinery Co., Ltd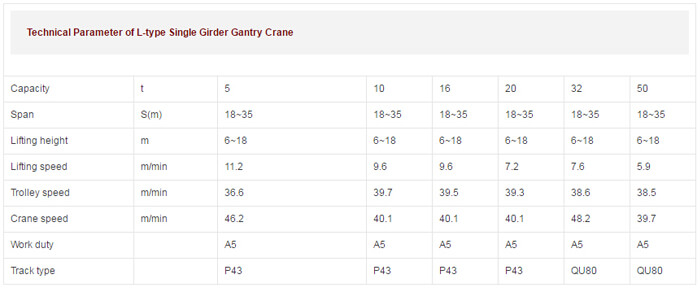 FYiHenan Dongqi Machinery Co., Ltd
BMH Type Single Girder Gantry Crane
BMH type single girder gantry crane is a small or middle scale gantry crane with one side of crane girder supported by one unilateral leg which can travel on the ground track, and the other side supported on the bracket track, which could save cost and space of the factory. The lifting capacity of the semi-gantry crane is 2 to 16 tons, and the working class is A3, and A4.FYiHenan Dongqi Machinery Co., Ltd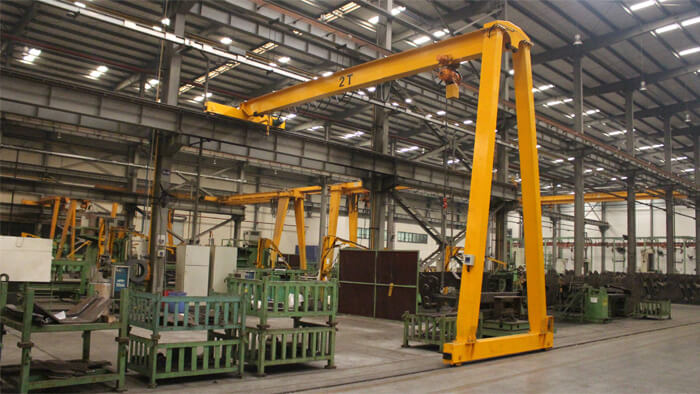 FYiHenan Dongqi Machinery Co., Ltd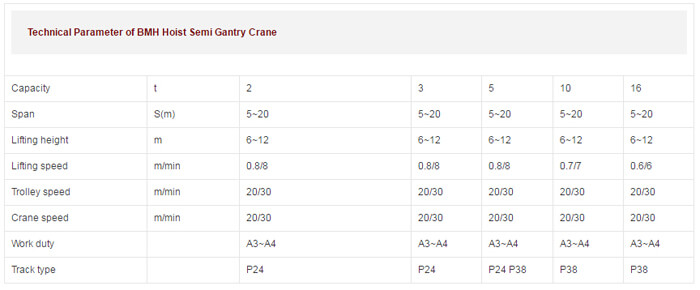 FYiHenan Dongqi Machinery Co., Ltd
Features of Single Girder Gantry Crane
The crane has simple and compact structure;
It is easy to install and operate;
It needs less and easy maintenance;
It has light dead weight;
It can be customized according to special work needs;
The crane works reliably and efficiently without failure during lifting work;
It can be used for many different work occasions, including indoor and outdoor occasions;
The crane is supplied with very reasonable price.
No matter what type of single girder gantry crane you need, Dongqi Group can supply the suitable crane for you with high quality and reasonable price.FYiHenan Dongqi Machinery Co., Ltd
Crane services of DQCRANES
DQCRANES can provide overall services for all types of industries cranes, and the main services are as follow:
Crane project design
Cranes designed by DQCRANES will solve any of your crane problems and material handling problems without spending any unnecessary expenditures.
Crane Installation
EASAY installation, wonderful working performance. DQCRANES can provide on-site crane installation services and our crane engineers will be at your services when necessary.
Lifetime Maintenance
Crane maintenance from DQCRANES ensures your safety and working efficiency.
Crane operator Training
DQCRANES training includes crane operation, maintenance and inspection, and crane spare parts, etc.
Technical support
The powerful technical support of DQCRANES will solve your crane technical problems.
Crane parts
DQCRANES parts will renew your cranes.