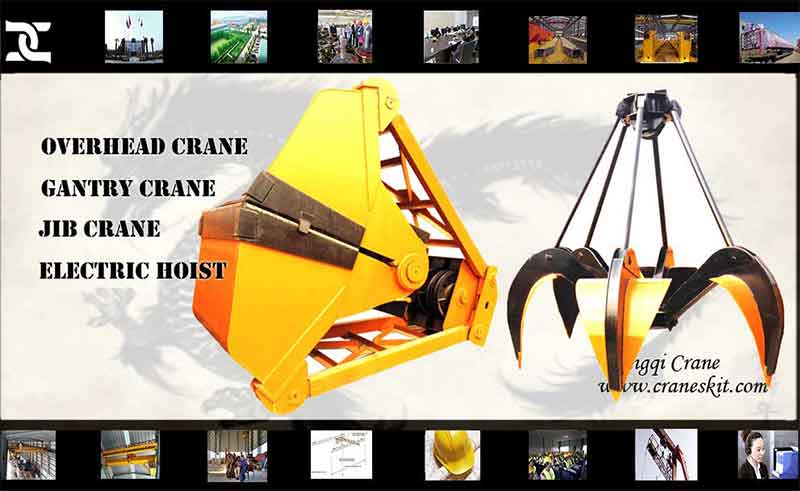 The grab bucket is a device which can grasp and remove the bulk or long material by opening and closing the jaw plate. The grasping and unloading action, generally by the crane driver indoor manipulation, do not need to support staff to assist, thus avoiding the heavy manual labor, save the auxiliary time, greatly increased loading and unloading of productivity. The grab bucket crane is widely used in port, yard and bulk material warehouse.iBXHenan Dongqi Machinery Co., Ltd
The types of grab bucket can be divided according to the volume density of grasping materials
Light (P<1.2t/m3)
Medium (P=1.2~2.0t/m3)
Heavy (P=2.0~2.6t/m3)
Extra-heavy type (P>2.6t/m3)
These four different types of grab bucket, in order to adapt to different volume density materials, in the case of the same volume, the weight of the grab bucket has a big difference.iBXHenan Dongqi Machinery Co., Ltd
iBXHenan Dongqi Machinery Co., Ltd
According to the driving mode of closure and opening of the jaw plate, the grab can be divided into:
Rope type: the rope grab relies on the wire rope to create a closed force to achieve the purpose of grasping the material. The rope grab is divided into single rope, double rope and four-rope grab.
Power grab: power grab through the load on the power unit and the transmission device to open and close the jaw plate, such as: electric grab, motor grab.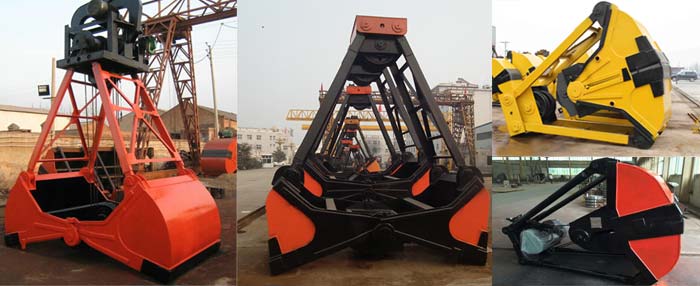 iBXHenan Dongqi Machinery Co., Ltd
According to the number of jaw plate, the grab can be divided into:
Double jaw plate grab
Multiple jaw plate grab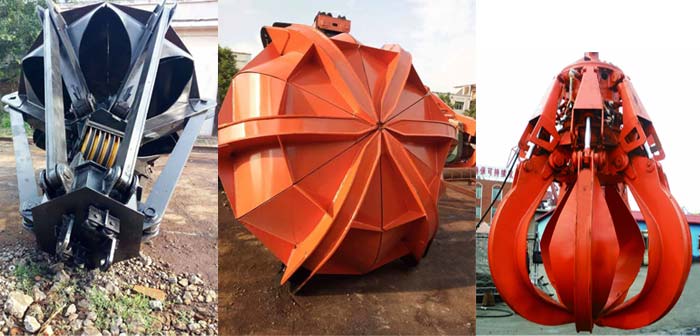 iBXHenan Dongqi Machinery Co., Ltd
Single Rope Grab| Single Cable Grab
The single rope grab is applicable for cranes equipped with only one lifting drum (single hook). It is free to open or close for loading and unloading material. The single cable grab cranes are easy to operate. It can be used for underwater and ground operations for material grabbing and transferring.iBXHenan Dongqi Machinery Co., Ltd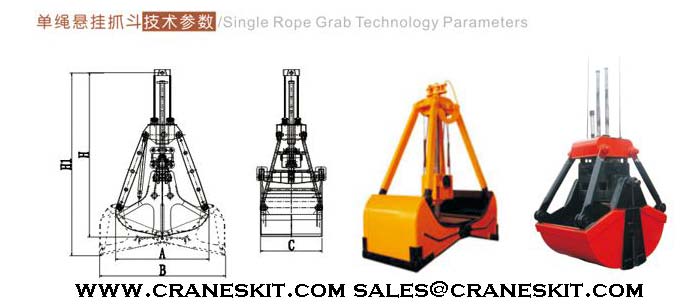 iBXHenan Dongqi Machinery Co., Ltd
Double Rope Grab
The double rope grab is applicable for cranes equipped with double lifting device structure, which is mainly used in port, dock and bridge construction. According to material characteristics, choose light, medium, heavy or over-heavy types of grabs for various loose accumulations.iBXHenan Dongqi Machinery Co., Ltd

iBXHenan Dongqi Machinery Co., Ltd
Four Rope Grab
The four cable grab is mainly matched with bridge or door cranes with two groups of lifting drums to grab various loose accumulation for loading and unloading, stores transfer and so on. According to material conditions and client requirements, serial product types as toothed, parallel cross beam opened and underwater operations can be designed.iBXHenan Dongqi Machinery Co., Ltd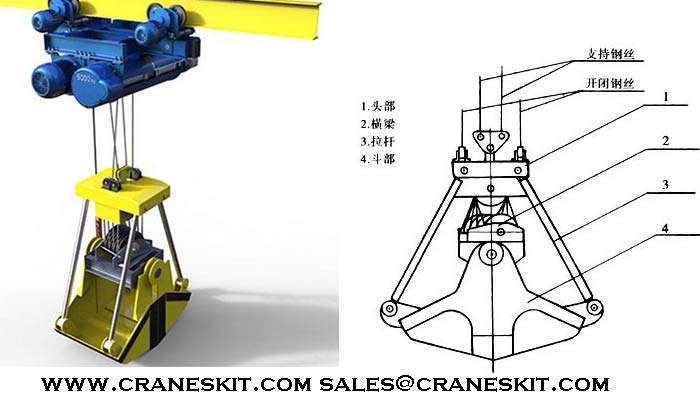 iBXHenan Dongqi Machinery Co., Ltd
Double Jaw Plate Grab
Double jaw plate grab is featured of novel shaping, logical structure, the rate of 1.5-1.92 between grabbed material and grab dead load, filling degree of 95-100%, which is an ideal grab for loose granule materials. Compared with the traditional four-cable grab, the product owns characteristics as follows: The through beam is designed with abbreviated structure, fine strength and slight dead load; the lining material of the main swivel is made of bearing steel, whose service life is pronged 4-5 times. The cutting edge sheet is welded by overlaying techniques to enforce impulse force and abrasion strength. The chain wheel is sealed by multi-lay techniques to prevent dust and water in underwater operation. The commissural clearance between cutting edge sheets can reach 0.3-1mm to keep working place clean. The structure is hard to deform or stagger the kind of grab can be designed with two cables.iBXHenan Dongqi Machinery Co., Ltd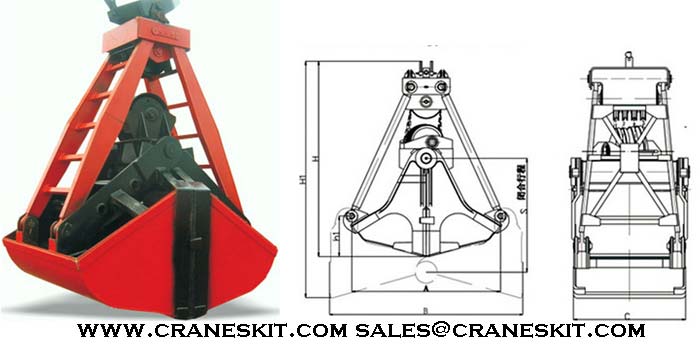 iBXHenan Dongqi Machinery Co., Ltd
Scissor Grab Bucket
The scissor grab bucket works when two jaws close the swivel, the scissor grab bucket opens relying on the releasing steel cable of chain wheel near scissor arm and frapping the bearing steel cable and the close operation relies on flipping the steel cable of chain wheel group. Increasing force by lever principle to make jaw close to grabbing material, whose closing force moment rises during closing, and it can grab materials completely without leakage and mainly be used on large bridge ship unloaded.iBXHenan Dongqi Machinery Co., Ltd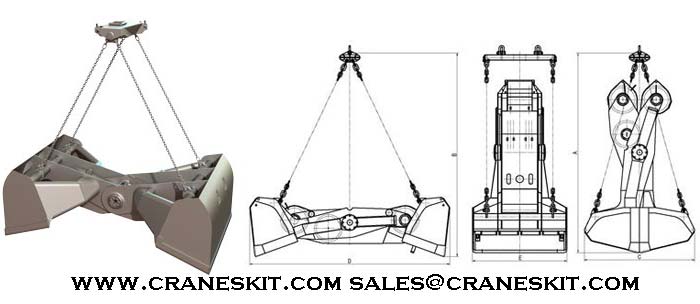 iBXHenan Dongqi Machinery Co., Ltd
Electric Motor Grab
The electric motor grab is mainly used on cranes equipped with self-owned switching mechanism for material load and unload at any height. Its productivity is higher than that of single-cable and easy to operate and high efficiency in load and unload. It is applicable for grabbing various loose accumulations. During operating the grab, according to lifting height, cable winders are added for energy transport.iBXHenan Dongqi Machinery Co., Ltd
Notes: the grab cannot be operated underwater.iBXHenan Dongqi Machinery Co., Ltd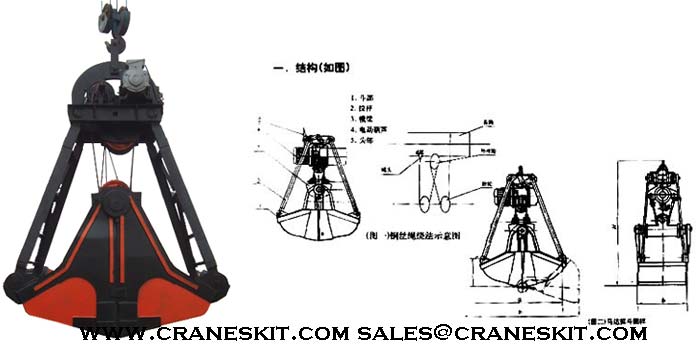 iBXHenan Dongqi Machinery Co., Ltd
Multi-valve Type Grab Bucket
Multivalve type grab bucket is mainly used for the load and unload of largely wasted steel materials efficiently under execrable conditions. It has been widely used in port, railway, metallurgy, mining, buildings etc. Its structure has four types as sing-cable, double-cable, four-cable and electric types. The jaw can open and close respectively according to material shapes and sizes so as to help grab large material, the quantity of jaw can be designed with 4~8 valves according to material sizes and clients requirements.iBXHenan Dongqi Machinery Co., Ltd

iBXHenan Dongqi Machinery Co., Ltd
Wood Grab Bucket
The wood grab is mainly used in wood markets, large wooden products factories, papermaking plants and so on to load, barge, log raft load trucks, unpeeling, its structure includes single-cable, two-cable, four cable and electric types, and it can also be designed and manufactured at the request of clients.iBXHenan Dongqi Machinery Co., Ltd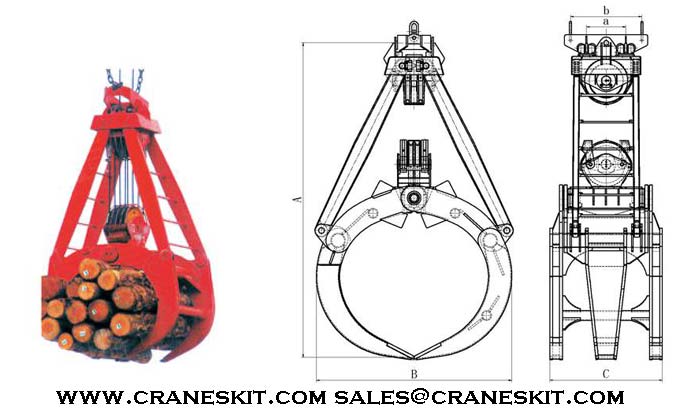 iBXHenan Dongqi Machinery Co., Ltd
Electric Hydraulic Grab
The electric hydraulic grab adopts electric and hydraulic mechanical techniques for large grabbing forces and high automation, and the product is an ideal load and unload tool for large material such as ores, pig iron, wastes and so on.iBXHenan Dongqi Machinery Co., Ltd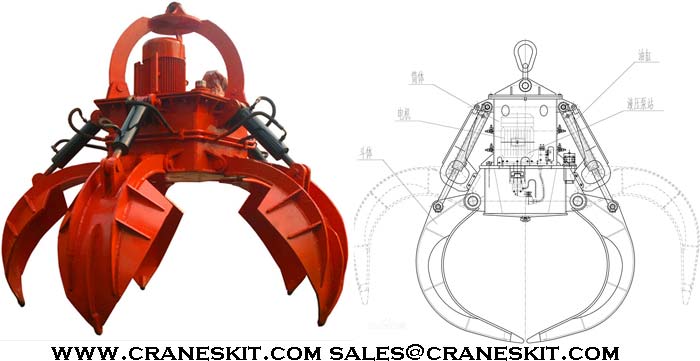 iBXHenan Dongqi Machinery Co., Ltd