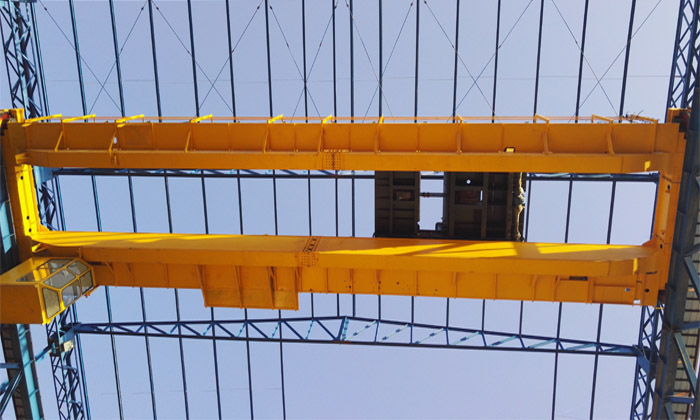 EOT crane, short for electric overhead traveling crane. EOT crane is extensively used in the warehouse, workshop, and stock ground of industrial and mining enterprises for loading, unloading or relocating heavy load.UFyHenan Dongqi Machinery Co., Ltd
There are four main types of EOTs: Single girder, double girder bridge, gantry, and monorail. Each of these cranes are highly specialize, but can be consider part of three categories:
Top running single girder bridge cranes
Top running double girder bridge cranes
Under-running single girder bridge cranes
UFyHenan Dongqi Machinery Co., Ltd
Single girder EOT cranes
Our single girder EOT cranes are commonly used for lighter duty applications. They can support weights from less than 100 kilograms, right up to heavier duty loads of several tonnes. We offer a versatile range of hoists and below the hook lifting accessories to help tailor our single girder EOT cranes to the task in hand.UFyHenan Dongqi Machinery Co., Ltd
UFyHenan Dongqi Machinery Co., Ltd
EOT Crane of LDY Metallurgy Single Girder CranesUFyHenan Dongqi Machinery Co., Ltd
Double girder EOT cranes
For jobs that involve lifting heavier loads, we usually quote double girder EOT cranes. By introducing a second horizontal beam double girder EOT cranes spread the weight evenly, letting the crane better manage the stress of the application. This also helps extend the durability and lifespan of the EOT crane, particularly when under constant daily usage.UFyHenan Dongqi Machinery Co., Ltd
UFyHenan Dongqi Machinery Co., Ltd
EOT CraneUFyHenan Dongqi Machinery Co., Ltd
EOT cranes or electric overhead travelling cranes are often simply referred to as overhead cranes – click through to discover more about our production and design capabilities in our website.UFyHenan Dongqi Machinery Co., Ltd
Crane services of DQCRANES
DQCRANES can provide overall services for all types of industries cranes, and the main services are as follow:
Crane project design
Cranes designed by DQCRANES will solve any of your crane problems and material handling problems without spending any unnecessary expenditures.
Crane Installation
EASAY installation, wonderful working performance. DQCRANES can provide on-site crane installation services and our crane engineers will be at your services when necessary.
Lifetime Maintenance
Crane maintenance from DQCRANES ensures your safety and working efficiency.
Crane operator Training
DQCRANES training includes crane operation, maintenance and inspection, and crane spare parts, etc.
Technical support
The powerful technical support of DQCRANES will solve your crane technical problems.
Crane parts
DQCRANES parts will renew your cranes.