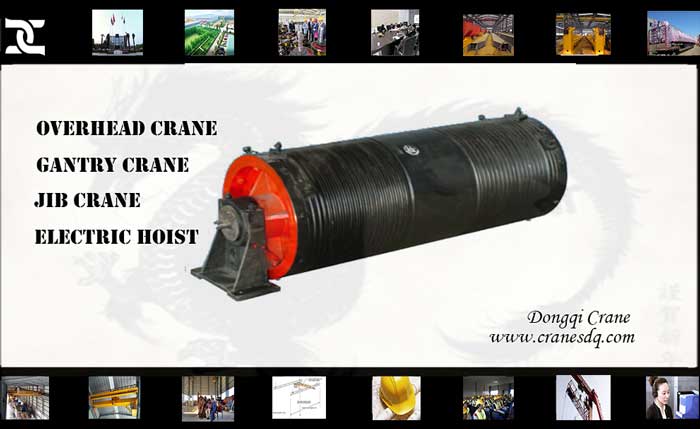 Crane rope drum introduction
Crane rope drum is a part of crane lifting mechanism which is used to full in, entwine, and store wire rope. The rope drum is consisted of drum shaft, flange type annular gear, drum hub, bearings, bearing pedestal, etc. Every part of crane rope drum is engineered and manufactured to meet the operational and safety requirements of industrial crane applications.QKsHenan Dongqi Machinery Co., Ltd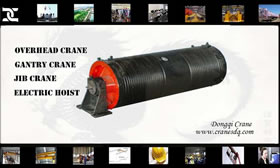 QKsHenan Dongqi Machinery Co., Ltd
Crane rope drumQKsHenan Dongqi Machinery Co., Ltd
Crane rope drum basic requirements
Same rules should be shared by rope seat radius, tread diameter, and the sheaves.
Due to rope drums have grooves, the following parameters need your attention.
Minimum pitch is 1.2 times whir rope diameter.
Groove depth is 7/16'' * rope diameter (minimum).
The pitch and groove depth lowers the possibility of rope damage caused by sharp "fins'' between grooves.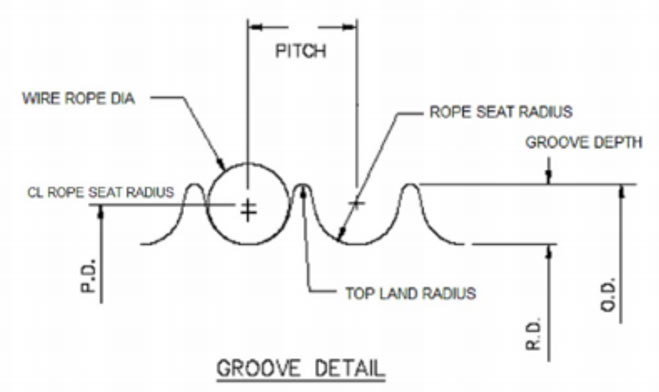 QKsHenan Dongqi Machinery Co., Ltd
Sheave wheel basic requirements
Depth of groove should be 1-0.5 times of wire rope diameter. Throat/ tread diameter is 24 to 30 times wire rope diameter.
Standard throat angle is 35°.
Rope seat radius equals to rope diameter and clearance, which should be support 135-150°of rope circumference and the surface should be slippery.
Wear can be measured with "Groove Gage"
QKsHenan Dongqi Machinery Co., Ltd
Rope drum materials
Rope drum is usually made of cast iron. However, on special occasions or based on your special requirements, crane rope drum can directly weld with cast steel or steel plate. Customized rope drum is available from DQCRANES.QKsHenan Dongqi Machinery Co., Ltd
Rope drum of DQCRANES
The rope drums of DQCRANES can be used on all types of industrial cranes. We provide a wide ranges of rope drums with different sizes and designs, which can meet your cranes of any capacities. DQCRANES' rope drum is robust, durable and reliable.QKsHenan Dongqi Machinery Co., Ltd
The rope drums of DQCRANES has the following advantages:QKsHenan Dongqi Machinery Co., Ltd
DQCRANES can produce crane parts according to customer requirements and application condition.
DQCRANES can supply the optimal rope drum for customers.
Each production procedures of each part or items is checked and supervised and recorded to ensure the quality of each part or item and each unit of equipment.
QKsHenan Dongqi Machinery Co., Ltd
Rope drum production shop of DQCRANESQKsHenan Dongqi Machinery Co., Ltd
Crane services of DQCRANES
DQCRANES can provide overall services for all types of industries cranes, and the main services are as follow:
Crane project design
Cranes designed by DQCRANES will solve any of your crane problems and material handling problems without spending any unnecessary expenditures.
Crane Installation
EASAY installation, wonderful working performance. DQCRANES can provide on-site crane installation services and our crane engineers will be at your services when necessary.
Lifetime Maintenance
Crane maintenance from DQCRANES ensures your safety and working efficiency.
Crane operator Training
DQCRANES training includes crane operation, maintenance and inspection, and crane spare parts, etc.
Technical support
The powerful technical support of DQCRANES will solve your crane technical problems.
Crane parts
DQCRANES parts will renew your cranes.