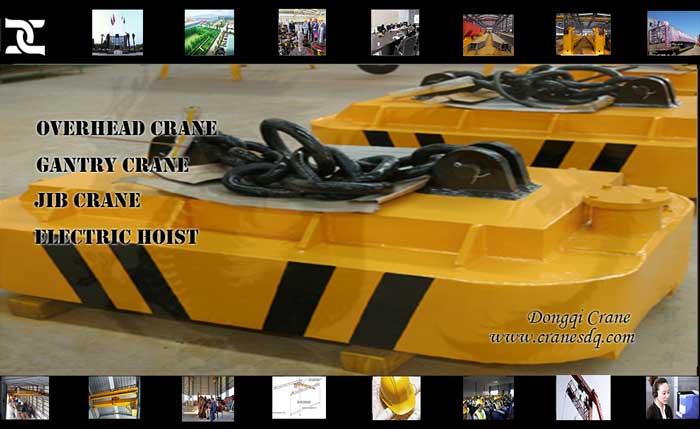 Crane lifting electromagnet introduction
Lifting electromagnet is the use of electromagnetism to handle ferro magnetic materials. Lifting electromagnet matched with various cranes to provide ideal material handling solution for materials such as steel, iron, ship manufacturing, heavy machinery, steel warehouses, ports and railways field, etc.hmcHenan Dongqi Machinery Co., Ltd
Lifting electromagnet is the ideal choice to lift ferro magnetic materials. It will free people from dangerous, grim and heavy working environment, such as, extremely high or low temperature, highly toxic, underwater, dusty places, etc.hmcHenan Dongqi Machinery Co., Ltd
DQCRANES can provide you customized services to meet various requirements in various applications. As a professional material handling solution provider, DQCRANES promises to provide the optimal material handling equipment to your application with the most cost-effective price.hmcHenan Dongqi Machinery Co., Ltd
Factors influencing lifting capacity of electromagnet
The lifting capacity of electromagnet is influenced by the following factors:hmcHenan Dongqi Machinery Co., Ltd
Surface conditions of electromagnet.
Material to be lifted
Thickness of load to be lifted
Contact surface of electromagnet on lifted load
Bending of the lifted load
Temperature of the lifted load
Stacking of the lifted load
How to select lifting electromagnet for your crane
How to select the right lifting electromagnet for your crane? Several technical parameters of your crane and the handling materials need to be confirmed before the selecting of electromagnet.hmcHenan Dongqi Machinery Co., Ltd
Crane specifications. The main parameters of your crane needs to be provided, such as, the lifting capacity of crane, etc.
Handling materials specifications. The features of handling materials, taking billet for example, the length, volume, weight, regular temperature, etc.
Control cabinet. Selection the control cabinet: ordinary type, blackout magnetic type, or adjustable magnetic type.
Inverter needed or not? If band-type brake is direct current, inverter is not needed or the inverter may be needed. Consult crane engineer for free now.
Specifications of electromagnets.Specifications and meanings of all kinds of electromagnets
Notice to use
Check the welding joint on non-magnetic guard board and other welding joint regularly.
Check the connecting box and cables regularly. Any problem detected should be repaired or the problematic item should be replaced in time.
Check the electromagnet insulation resistance and coil dc resistance regularly and repair it when necessary.
Check the situation of electric control equipment regularly.
Attention to the electromagnet working current in thermal state. When the working current exceeds the normal current, the operations should be stopped and inspection is needed.
Keep current voltage pressure stable, and diamagnetic link work normally and avoid the high and middle voltage impact the current coil.
The use of electromagnet should obey the operation instruction, and please do not change the on-load factor.
Electromagnet should be used in the allowable condition.
Related:
Crane lifting electromagnet for steel productshmcHenan Dongqi Machinery Co., Ltd