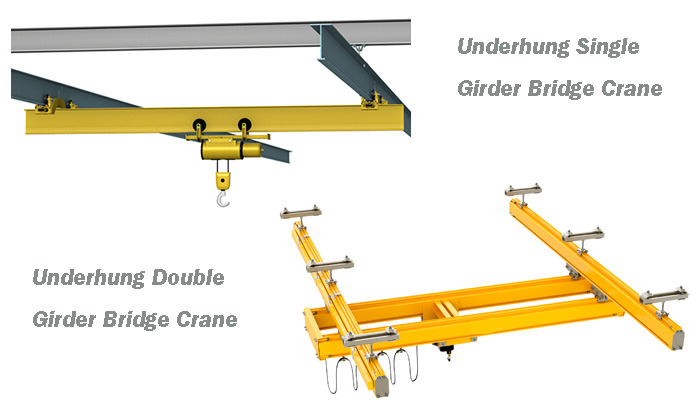 Dongqi underhung bridge crane is widely used in warehouse, factory, workstation, and assembly sites etc. Underhung Bridge Cranes are to be fix to the existing roof structure. It saves costs which should be paid on building a new crane way.3LQHenan Dongqi Machinery Co., Ltd
3LQHenan Dongqi Machinery Co., Ltd
Underhung Bridge Crane Applications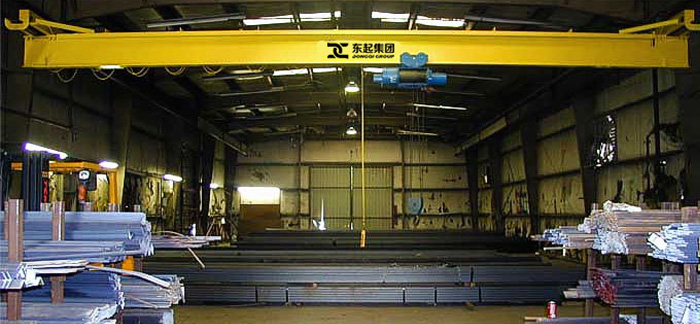 3LQHenan Dongqi Machinery Co., Ltd
Hot metal
Necropsy Lab
High duty cycle applications
Parts Assembly
Warehouse loading docks
Process Equipment Maintenance
Truck Service Centers
Differences between single girder and double girder underhung bridge crane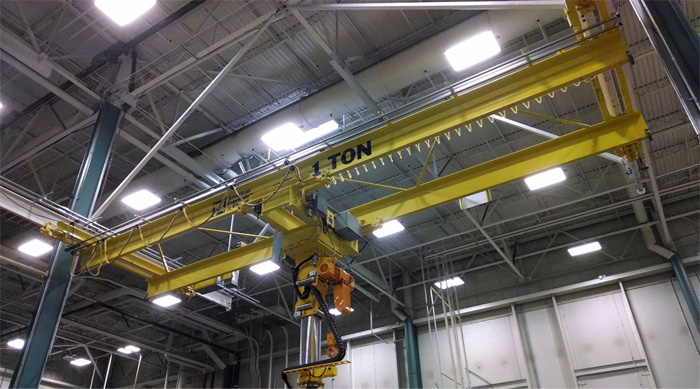 3LQHenan Dongqi Machinery Co., Ltd
Underhung bridge crane can be either single girder or double girder. Double girder underhung bridge cranes are often suitable for longer span or higher capacities.3LQHenan Dongqi Machinery Co., Ltd
Single girder underhung bridge crane is designed to reduce the spending budget, while double girder underhung bridge crane is aimed to raise the lifting capacity, letting it lift over 25 or 25 tons materials.
Compared with double girder overhead crane, single girder bridge crane has lower wheel pressure.
Double girder underhung bridge crane enjoy large height and lift capacity.
Dongqi Underhung Bridge Crane Features & Benefits
Superior to top running crane in strength, durability, and consistency
Extended track life
System expansions are easy and cost effective
Straight rails result in easy, predictable, cost effective installations
Efficient spanning capabilities eliminates costly additional supporting structures
Raised tread track provides durability and superior safety
Flexible suspensions provides for longer life and less maintenance
DQCRANES is capable of design complex crane projects from 5t-500t outdoor gantry cranes, jib cranes and container cranes to 0.5 t -500 t indoor lifting systems for various industries. Just tell DQCRANES what your lifting requirements is, we can do everything for you.3LQHenan Dongqi Machinery Co., Ltd
Crane services of DQCRANES
DQCRANES can provide overall services for all types of industries cranes, and the main services are as follow:
Crane project design
Cranes designed by DQCRANES will solve any of your crane problems and material handling problems without spending any unnecessary expenditures.
Crane Installation
EASAY installation, wonderful working performance. DQCRANES can provide on-site crane installation services and our crane engineers will be at your services when necessary.
Lifetime Maintenance
Crane maintenance from DQCRANES ensures your safety and working efficiency.
Crane operator Training
DQCRANES training includes crane operation, maintenance and inspection, and crane spare parts, etc.
Technical support
The powerful technical support of DQCRANES will solve your crane technical problems.
Crane parts
DQCRANES parts will renew your cranes.