Manual overhead crane is a lifting machine that mainly works though link chain to save labor effectively. Single girder manual overhead crane and double girder manual overhead crane are two types of manual overhead crane.dsUHenan Dongqi Machinery Co., Ltd
dsUHenan Dongqi Machinery Co., Ltd
Single Girder Manual Overhead Crane
dsUHenan Dongqi Machinery Co., Ltd
Double Girder Manual Overhead Crane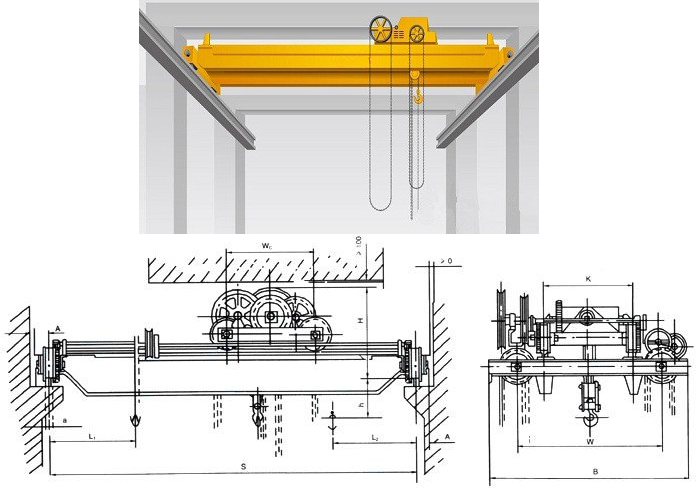 dsUHenan Dongqi Machinery Co., Ltd
Features of Manual Overhead Crane
Simple installation. The jig and fixture will be used to manufacture and equip all components to ensure easy install.
User-friendly control, which can reduce injure efficiently and maximum raise productivity.
Poly functionality. We own series of overhead crane product line, which will meet all your different requirements.
High-safety. During our design of overhead crane, 15% weight of hoist and trolley, as well as 25% impulse load of hoist will be added to ensure the high safety.
Usages and Maintenance of Manual Overhead Crane
It is forbidden to over the certain lifting capacity marked on overhead crane.
Everyone is forbidden to stay under the crane span structure.
Operator or inspector should examine manual overhead crane once in a while.
The crane machine is forbidden to move on the top of people.
Any tool or preparation parts shouldn't be put on the overhead crane in case hit human when dropping.
Dongqi Crane can provide you manual overhead crane and single girder overhead crane,double girder overhead crane as you need to satisfy your demands.dsUHenan Dongqi Machinery Co., Ltd
Crane services of DQCRANES
DQCRANES can provide overall services for all types of industries cranes, and the main services are as follow:
Crane project design
Cranes designed by DQCRANES will solve any of your crane problems and material handling problems without spending any unnecessary expenditures.
Crane Installation
EASAY installation, wonderful working performance. DQCRANES can provide on-site crane installation services and our crane engineers will be at your services when necessary.
Lifetime Maintenance
Crane maintenance from DQCRANES ensures your safety and working efficiency.
Crane operator Training
DQCRANES training includes crane operation, maintenance and inspection, and crane spare parts, etc.
Technical support
The powerful technical support of DQCRANES will solve your crane technical problems.
Crane parts
DQCRANES parts will renew your cranes.